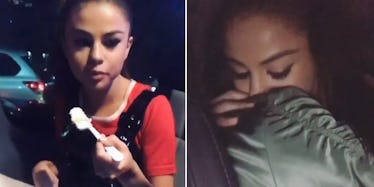 Selena Posted Two Adorable Videos About The Weeknd And The Internet Is Obsessed
Instagram
Could Selena Gomez and The Weeknd be any more adorable together?
Before you answer that question, you need to see the two videos Selena posted to her Instagram on Tuesday night.
The Weeknd, aka Abel Tesfaye, is currently in NYC for his Starboy: Legend of the Fall Tour, and Selena, being a super supportive girlfriend and all, has been by his side.
Prior to last night's show, the "Same Old Love" singer posted a video in which a friend asks her what she's doing and she replies,
I'm eating a cheesecake before my boyfriend's concert.
I love the honesty and choice of dessert.
The next post was of her presumably wrapped up in The Weeknd's arms as they drove away from his concert.
Awwwww, just look at these two!
Wearing a cute black latex overall dress, Selena hung out backstage and posed for some photos with fans. She honestly looks better and happier than ever.
The couple, who have been dating since the beginning of the year and made their first red carpet appearance at the Met Gala in May, then headed out to dinner with some pals.
Selena changed up her look after the show, opting for a sexy black dress and heels.
Then, Selena's friend and photographer Petra Collins posted behind-the-scenes footage of what she said was a "photo shoot in the restaurant at 2 am."
It's fine. My Tuesday night was also this fun... not.
Selena and The Weeknd have something really special, and the internet seriously lives for their relationship.
Earlier this week, the 24-year-old stopped by Z100's Elvis Duran and The Morning Show to discuss her upcoming album, and while she didn't share too much about her boyfriend, she did admit,
I'm very obvious when I talk about my feelings for somebody.
Here's hoping she's very obvious about her feelings for The Weeknd on the next track she releases, and here's hoping we get the whole album soon!