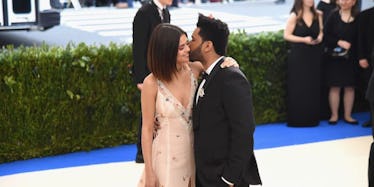 Selena Gomez Gets Real About Her Feelings For The Weeknd: "I'm Very Obvious"
Nicholas Hunt/Getty Images for Huffington Post
Oh, Selena Gomez – you charismatic, talented human, you.
Selena stopped by Z100's Elvis Duran and The Morning Show this Monday, June 5, to talk about her music, relationship, and shifting career.
In their conversation, Selena spoke openly about her process for creating a new album and how important it was for her to get some much needed air this past year.
In 2016, Selena stepped away from the lime light to work on her career in addition to her mental health.
She told Elvis,
I think it's important to balance out where I am. I've been doing this for a really long time. My sanity has meant everything to me... I haven't really been all over the place recently and it's intentional. I am very empathetic, so sometimes traveling can be hard for me.
That makes total sense, given the forever unfair onslaught of speculation always surrounding her love life, with a touch of body-shaming on the side.
It's enough to make anyone take a little break.
While Selena was up for talking openly about her career and music, the one area where she played coy was when it came to discussing her dating life.
We know Selena and The Weeknd have been happy together for some time now, but she only would tell Elvis Duran,
I'm very obvious when I talk about my feelings for somebody.
That's it? Whatever. We love it, Selena.
In addition to hinting at her hardcore romantic feelings for The Weeknd, Selena teased that her next single following "Bad Liar" is going to be awesome. According to the star, it's something she's very proud of.
Even though she couldn't play the song on the show, she did say,
The second single is even more surprising than 'Bad Liar.' I was playing it for my friends last night and it's so fun… I can't, but it's really exciting!
Exciting like... a-love-ballad-for-the-Weeknd-exciting, maybe?
We'll have to wait and see.
Citations: Selena Gomez Talks 13 Reasons Why Season 2, New Music, & Mental Health With Elvis Duran! (Perezhilton)