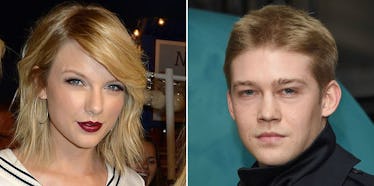 Taylor Swift And New BF Joe Alwyn Reportedly Plan To Stay "Insanely Private"
Getty Images
It's only been a week since Taylor Swift and Joe Alwyn's relationship became public knowledge.
The 27-year-old pop sensation has kept a remarkably low profile ever since her breakup from Calvin Harris this time last year and her subsequent super high-profile, whirlwind relationship with Tom Hiddleston.
People were shocked to learn, though, that T. Swift could keep a new relationship a complete secret for several months.
Swift was apparently first spotted with Alwyn in a group of friends, including Martha Hunt and Lorde, back in October after a Kings of Leon concert.
Since then, the Grammy winner has reportedly donned disguises and gone to great lengths to hide this new relationship from the public.
Now, we have just a little more information about what's been going through the 1989 singer's mind these past several months.
Speaking exclusively to People, a source revealed,
Taylor has been insanely private about her relationship with Joe. She wanted to get to know him without any chaos. She has learned from the past.
I don't think anyone can fault Swift for wanting to get to know her new guy away from the flashes of the paparazzi.
You may remember there was heavy speculation that her relationship with Hiddleston was all a publicity stunt.
Hiddleston spoke out about his time with Swift in an interview with GQ earlier this year, claiming, "Of course it was real."
He went on to say,
I have to be so psychologically strong about not letting other people's interpretations about my life affect my life. A relationship exists between two people. We will always know what it was. The narratives that are out there altogether have been extrapolated from pictures that were taken without consent or permission, with no context. Nobody had the context for that story. And I'm still trying to work out a way of having a personal life and protecting it, but also without hiding.
It seems like Swift also learned a lot from that relationship and is content to hide -- at least for now.
Speaking on 26-year-old Alwyn, whose film "The Favourite" with Emma Stone will premiere sometime in 2018, another source told People,
Joe's a very normal, down-to-earth guy. He's private and low-key.
The source also said Swift and Alwyn are "on the same page on how to handle the attention."
Unfortunately for us, it looks like that means no PDA-filled Instagram shoutouts or red carpet debuts for this new couple any time soon.
Citations: Taylor Swift 'Has Learned from the Past' — How She Kept Her Romance with Joe Alwyn 'Insanely Private' (People)