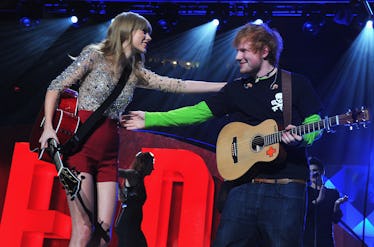 Taylor Swift's Fans Have A Theory About 'Reputation' & It Involves Ed Sheeran
Theo Wargo/Getty Images Entertainment/Getty Images
Anticipation is at an all-time high for Taylor Swift's new album, Reputation, and while fans attempt to be patient for its release on Nov. 10, let's be honest –the wait is brutal. While we're counting down the days, let's dig into one of my favorite fan theories circulating right now: Are Taylor Swift and Ed Sheeran collaborating on Reputation?
I know, I know. It's one of the better theories I've seen out there and I'd be lying if I said trying to track this one down didn't leave me entirely giddy over the prospect.
Remember when Swift and Sheeran collaborated on "Everything Has Changed" way back on her 2013 album Red? It's still one of my favorites. Of course, hearing these two besties on another song would make a lot of fans beyond overjoyed.
First, check out the rumored Reputation track list that's circulating. Obviously, this isn't confirmed, but fans jumped in to talk about it, with one person noting: "Some reason I wish this was real because I'm interested in hearing track 10!"
Well, OK, there's a song on the list titled "They're Burning All The Witches," which was referenced in Swift's "...Ready For It?" music video, so that seems (possibly?) legit.
Take a look at track 15, however, called "End Game," which says it features Future and Ed Sheeran. Anyone else totally screaming?
Let me just start by saying once you dig into trying to get answers, you get some interesting results, like Sheeran talking about being in an ice cream eating contest with Swift:
He explains, "I was with Taylor and whenever Taylor goes anywhere, so do 40 teenage girls." Turns out those fans cheered him on to finish the massive ice cream challenge. He finished, but promptly threw it all up in the bathroom and... well, melted thrown up chocolate ice cream kind of looks like something else. OMG, this story is epic.
But circling back to that song collaboration... is this rumored Reputation track list proof that it's happening? Check out what one fan uncovered in Swift's music video for "...Ready For It?" Those Chinese symbols, according to this Twitter user, mean "Taylor," "Ed," and "Future."
Another fan tweeted: "I read somewhere that Taylor teased a Future/Ed Sheeran collaboration at her Secret Sessions and I think she just confirmed it... in Chinese. The pics from the video in this tweet include Chinese symbols for "Eddy," "Reputation," and "Future."
If true, Swift has clearly taken her hint dropping next level because that is beyond sneaky. But also totally brilliant.
Insert appropriate reaction gif here:
While Sheeran was recently asked about Swift's album, he remained pretty tight lipped about all of it, and certainly didn't sneak any hints that he collaborated with his BFF. He simply said: "Yeah, I think the songs are great, I think the visuals, she's really putting everything into the visuals as well, the visuals are really impressive. I think people will like the album!"
Meanwhile some discussion of "End Game" came up on a Reddit thread titled "Will Taylor Release a New Single?," with one fan speculating: "Wouldn't be surprised if it's the rumored Sheeran/Future collaboration 'End Game.' I'm sure they want to get that out there as an official single right out the gate."
Another fan responded that they weren't even convinced that "End Game" was really a song on the track list, writing: "End Game is BS as is the track list that has been circulating."
Another Reddit commenter noted that fans who attended Swift's Secret Sessions confirmed the track, writing: "Multiple sources from the sessions have all agreed that it's an actual song we'll be getting and whilst that isn't the best source of info, the RFI music video has 'Eddie' and 'Future' on the wall in Chinese, which gives it a lot more weight."
There are definitely a lot of signs pointing to a Swift/Sheeran collab, but I guess we just have to wait and see.
Check out the entire Gen Why series and other videos on Facebook and the Bustle app across Apple TV, Roku, and Amazon Fire TV.