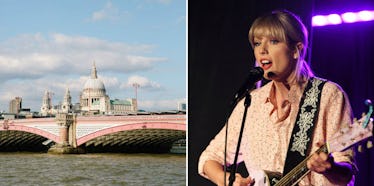 This Taylor Swift "London Boy" Itinerary Will Let You Live Out Your Wildest Dreams
Taylor Swift, the iconic pop star who's known for her poetic lyrics about relationships and love, released her seventh studio album, Lover, on Friday, Aug. 23, 2019. After giving it a listen and analyzing the dreamy words and suggestive saxophone sounds, you probably want to know how to recreate Taylor Swift's "London Boy" itinerary because this track is straight out of your wildest dreams.
It might take you back to your semester abroad when you strolled by the pastel-colored homes of Notting Hill, waiting for someone to romantically sweep you off your feet. Back then, you didn't know your favorite artist would emerge from an era of snakes, dark lipstick, and black tour outfits to write magical songs about marrying a man with paper rings. But you're so happy that now you get to belt out songs like "You Need To Calm Down" in your car, and have a pretty perfect reason to hop across the pond and visit London again.
Just in case you didn't know, "London Boy" is essentially Swift's ode to the pubs, clubs, fairy tale moments, and regions she's experienced in the city. Hints in the lyrics also have fans thinking the song is about Swift's lover, Joe Alwyn. The hit lays out the local spots that have captured Swift's heart and explains how a destination can quickly feel like home.
So here's the deal. Buy a plane ticket, follow this inspired itinerary, and you'll live out exactly what she's writing about.