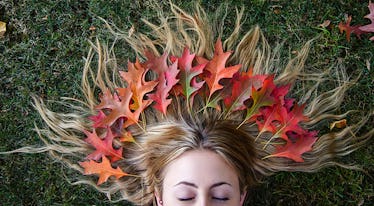 These Are The Best Hair Products For Fall To Ensure Your Hair Feels As Healthy As It Looks
Carolyn Lagattuta/Stocksy
As we embrace the seasonal shift into fall, it's time to take a cold, hard look at our beauty routines, and see if we can improve them for the better. I'm not just changing up my makeup and skincare, though — in fact, the world's recent obsession with Queer Eye's Jonathan Van Ness has inspired me to make hair care a top priority this season. With that in mind, I've rounded up the eight best hair products for fall 2018 that are worth stocking up on to ensure your hair looks fab as we approach the cooler months. Sorry to summertime's messy beach waves, but the name of the game for fall is frizz-free shine that's smoother than smooth.
This year, fall happens to have a quite a few major hair trends, from super-straight, shiny glass hair to dramatic lengths like short bobs and booty-grazing ponytails. The one thing they all have in common? Incredible hair health. You simply can't pull off these lewks with frizzy, damaged strands, which is why an emphasis on hair revival should be the the focus of your autumnal hair product splurges. To make things easier, I've rounded up a few essentials that are guaranteed to get your locks looking and feeling healthier in no time.
Lets start at the beginning — of the wash cycle, that is. Instead of the traditional shampoo-then-conditioner recipe, this fall I'll be opting for the Hairstory New Wash ($40, hairstory.com) for all my in-shower hair needs. Before I even get down to the nitty gritty of why this product works so well, know that Jonathan Van Ness is a huge fan, and that's reason alone to give it a shot.
This product's detergent-free formula doesn't strip hair, and instead uses essential oils and naturally derived saturated cleansers to restore natural texture and improve overall hair health. A major multitasker, it cleanses and conditions in one step, so there's no need to follow up with conditioner, which means your shower time will actually be cut in half, despite your hair looking better than ever. Remember hottie Ethan Craft from Lizzie McGuire, and how he credited his great hair to skipping the "repeat" step in "lather, rinse, repeat?" Yeah, he was probably using New Wash.
Next up are the latest from luxe haircare brand Oribe — a collection of hair-enhancing booster drops. In particular, the Power Drops Damage Repair Booster ($58, oribe.com) is a major must for fall. The drops themselves are a highly concentrated serum chock full of good-for-your-hair nutrients and 2% linoleic acid, along with biotin and sea kelp extract. To use, you can either mix three to five drops into another haircare product, or apply the drops alone on wet hair.
These are a great step to give your current hair routine some extra TLC, without having to stop using products that already give you great results — simply mix in these drops to give damaged hair a bonus treatment. If maintaining dyed color is more your concern, the collection also features a Color Preservation Booster ($58, oribe.com), and if your strands are looking dry, the hyaluronic acid in the Hydration & Anti-Pollution Booster ($58, oribe.com) could be the hair-reviving ingredient you didn't know you needed.
Okay, so now you're fresh from the shower, and it's time to prep the hair to be styled. Before you reach for your hairbrush, I'd like you to stop and think: when was the last time you replaced it? Turns out, you should be picking up a new one every sixth months to a year. If your calendar says it's time for a new one, I highly recommend the Olivia Garden NanoThermic Ceramic + Ion Large Paddle Brush ($23, store.oliviagarden.com). In particular, the 2018 Breast Cancer Awareness Special Edition, since a portion of profits are donated towards breast cancer research.
This paddle brush has soft cushion as well as ball point tips for overall hair and scalp comfort while brushing — because no one likes that painful, raking, headache-inducing feeling you get when using certain harsh brushes. The Tourmaline Ion Technology also works to hydrate the hair's cuticles as you brush, helping to de-frizz strands and leave them looking shiny.
Should you need more help with that whole frizz-free thing, though, the IGK Hair Good Behavior Spirulina Protein Smoothing Spray ($32, igkhair.com) is a safe bet for great results. Real talk: I restock my IGK products at the start of each season anyway, since the trendy bottles practically doubles as decor on my shelves, but the products themselves are just as good as the packaging, and this new release has become a quick favorite of mine.
Remember that one friend who got a keratin treatment in high school and showed up to class one day with her previously frizzy, unruly strands looking shiny, sleek, and totally under control? I was very, very jealous of said friend, so when I found out that Good Behavior intends to mimic the results of a keratin treatment, I knew I was going to love it. How does it work? Spirulina, a plant-based protein you've likely seen in trendy Instagram health food pics, contains amino acids, vitamins, minerals, and biotin, all of which heal hair as well as keep the scalp healthy. Couple that with bonding plymers that tackle frizz and give off shine, and they've basically managed to bottle the finish of a perfect blowout.
Did I mention Good Behavior doubles as a heat protectant? Perfect for fall, since it's about time you treated yourself to a new curler. This season, skip the clamped irons and check out Bead Head's new Curlipops collection, which includes seven uniquely shaped curling wands for all your curling and waving wishes. In particular, I'm loving the Curlipops 1" Tourmaline Ceramic Spiral Styling Iron ($30, bedheadstyling.com) for super bouncy curls.
This baby heats up to 400 degrees (because some like it hot) and the tourmaline ceramic technology — similar to the tourmaline technology in that Olivia Garden Brush we talked about earlier — guarantees hair will look shiny and smooth, not fried.
If it isn't clear by now, allow me to reiterate it just once more: sleek, shiny, healthy hair is absolutely essential for fall, which is why I'll be finishing off all my lewks with the Verb Ghost Dry Oil ($16, verbproducts.com). Whether or not you're tackling this season's glass hair trend, this product is a must for a smooth, stunning finish.
The Ghost Dry Oil is a cult classic favorite amongst cool-girls everywhere, and you should totally believe the hype. It's basically a spray-on conditioner for all hair types, helping hair look healthy, glossy, and refreshed in just a few spritzes.
Say you haven't yet stocked up on all of the above, and your fall is starting off with a series of bad hair days? You need a cute accessory to cover it up, like the Shhh Silk Bad Hair Day Silk Dad Hat ($15, originally $59, shhhsilk.com), which just happens to be on sale. Amazing deal alert.
In case you haven't heard, silk is great for ensuring hair looks its best and stays frizz-free, and in the past couple of years, beauty lovers have stocked up on silk pillowcases and scrunchies in bulk. So I ask you, why not silk hats? Especially when they're this cute? To me, this seems like a hard Yes.
And finally, the last must-have hair product for fall will be a savior on days where you'd love to reach for that silk hat, but you won't be at a hat-appropriate event. Not every day can be casual cute, people! To revive dirty hair instead of hiding it underneath an accessory, go for the Unite 7SECONDS Refresher Dry Shampoo ($29, shop.unitehair.com).
For a while now, I've been a devout rider on the dry shampoo bandwagon. Like, so much so that I would use virtually any dry shampoo I could get my hands on, instead of seeking out only the best. However, trying out this product by Unite reminded me how good some dry shampoos can really be; this one not only helps my hair look better, but it makes it feel more fresh, like I've actually just showered with real shampoo. Sometimes, powerful dry shampoos get hair looking good, but don't exactly leave you with run-your-fingers-through-em strands — instead, your scalp feels clogged and heavy. This super-light product really revives my hair in seconds, and my other dry shampoos have sat unused ever since the first spritz.
And with that, I wish you the very best in your quest for healthy, shiny hair this season. May all your looks be frizz-free and fabulous!