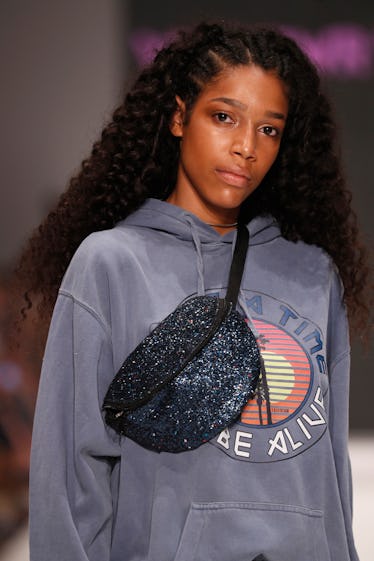 10 Protective Styles For Fall That Will Save Your Natural Hair From Breakage
Sebastian Reuter/Getty Images Entertainment/Getty Images
Many curly girls love to braid their hair during the summer to beat the humidity. But the truth is that you also have to think about the potential damage drier air can cause during the colder months. Thankfully, there are plenty of fall 2018 protective styles for natural hair to choose from that will keep you looking stylish, make your morning routine a breeze, and save your hair from potential breakage.
From traditional single braids, to Marley twists, and more, these styles look great out, but can also be manipulated to create beautiful updos, buns, and ponytails. So you'll never have to feel limited while your hair is in braids. However, it's always important to remember to take care of your scalp while your protective style is in. That means washing and massaging it regularly, and applying oils and creams to your roots to make sure you don't develop irritation or build-up. It's also key to remember that while braids are beautiful once they have been installed, you should only keep them in for a maximum of three months, or else they may start to cause damage or even matte with your own hair underneath.
But on a brighter note, let's take a look at a few styles you should think about trying out this fall!
Faux Locs
Faux locs are probably the most protective of all the protective styles since besides your roots, all of your hair will be safely wrapped inside of the braiding hair. This means that none of your tresses will be exposed to the drier air fall brings.
Jumbo Marley Twists
This is a great style for anyone who loves the looks of twists, but lives an active lifestyle. The beauty of Marley twists is that they can be installed quickly, the take-down process is easy, and the messier they get, the better!
Fulani Braids
Fulani braids are an intricate style that you can customize to suit your personality. What I love about them is that half of your hair lays flat on your head in cornrows, which makes it easy to put on a cozy hat or beanie on chilly days.
Single Braids
Single braids are the OG protective style and they work on everyone! So whether you decide to rock them in a bob, or wear them super long, this is a look you can't go wrong with.
Ombre Single Braids
If you love single braids but you're looking to stand out from the crowd, you can definitely switch things up by rocking an ombre look. Who ever said blonde was only for the summer?
Wigs
For those of us who don't have the time for upkeep when it comes to protective styles, don't be afraid to quickly braid your hair into a few cornrows, then slap a wig on top. It's the easiest way to keep your natural hair covered while the rest of you looks oh-so-fresh.
Head Wraps
Don't like wigs? Well, rocking a colorful head wrap is another chic way to keep your hair completely covered while having to do minimal work as you get ready to start your day.
Lemonade Braids
Made popular by none other than the Queen Bey herself, lemonade braids are a nice style to wear if you're into the side-swept look. And of course, you can spice them up with a little color to suit your personal style.
Bantu Knots
Bantu knots are a great two-for-one deal — especially on wash day. Once you come out of the shower, gently wrap your hair into sections to create the knots. You can rock the style for a few days, then take them down to enjoy some bouncy, loose curls for the rest of the week.
Short And Chunky Box Braids
For the natural girls who like to be a little more eccentric — or nostalgic — with their look, why not rock some short and chunky box braids à la Suzie Carmichael?
With so many different styles to choose from, it's definitely hard to decide what look to go with! But no matter what you pick, you are sure to be a stunner this fall.