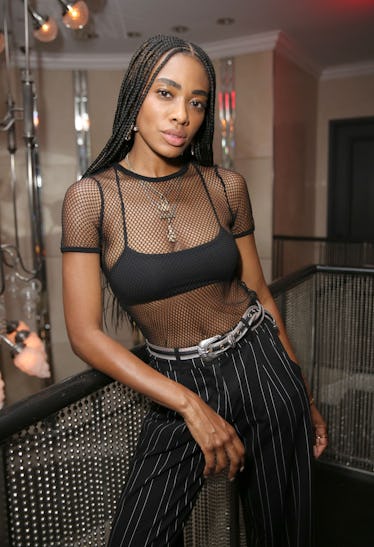 12 Braided Styles For Natural Hair That Will Save You From The Humid Weather's Wrath
Rachel Murray/Getty Images Entertainment/Getty Images
Going natural is a journey. Not only do you have to find a new hair routine — since your texture will be a lot different than when it was chemically straightened — but you'll also have to deal with things like detangling, shrinkage, and humidity in the summer that will most likely have your curls looking ultra-frizzy by the end of the day. So if you don't have the time to redo your twist outs, or do a wash-and-go every night, then dealing with your hair in the hotter, more moist months may be a huge headache.
But thanks to these braided styles for summer, naturals can not only forget about having to deal with humidity, but can also give their hair a much-needed break from all the extra manipulation and products it takes to avoid frizz. These looks are cute and chic — some are even versatile enough to be thrown up into a ponytail, or styled into a bun or top knot. However, while you can typically keep most braids in for up to 12 weeks, according to Tanya Pebbles of East Coast Styles, don't forget that you still need to take care of your hair and scalp underneath to avoid any breakage or damage.
Feed-In Cornrows
Feed-in cornrows are a great style when you want to keep your face free of hair, and also want a look that you can easily throw into a ponytail or bun. But if you're going to be out in the sun, be sure to apply sunscreen to your parts to avoid sunburn on your scalp.
Jumbo Cornrows
This is an easy style that can be done in under an hour. You can also use bobby pins to scrunch the hanging braids into a bun for a look that's great whether you're running errands or headed out for a night on the town.
Lemonade Braids
Lemonade braids are inspired by Beyoncé's many looks from her 2016 album. These particular side-swept cornrows are perfect for hot days when you especially don't want your hair in your face, or running down your neck and back.
Solange-Inspired Braids
Solange is known to be a free spirit, and she clearly applies this mantra when it comes to her hair as well. This bleach blonde 'do is a perfect combination of super long micro and jumbo cornrows, complete with beading, that you likely won't see being worn by anyone else.
Micro-Cornrow Ponytail
If you're a ponytail-wearing type of gal who doesn't want to deal with brushing your hair every day, then opt for this killer style that Beyoncé wore to watch tennis superstar Serena Williams play at Wimbledon back in 2016.
Jumbo Cornrow Updo
Have an outdoor wedding or formal event to go to? No problem. This updo is not only simple and quick to create, but it will also keep your hair in one place, no matter the weather.
Jumbo Box Braids
Who doesn't love box braids? The only downfall is that they can take up to eight hours to complete. But fortunately, if you opt for a chunkier version of the style, you can be out the salon chair in half the time!
Single Braids
But of course, if you have the time, you can't go wrong with smaller single braids.
Three-Braid Ponytail
If you've got some extra braiding hair lying around, and not a ton of time, why not create a lovely, waist-grazing braid (or three) like Yara Shahidi? But while this style is gorgeous, keep in mind that since some of your hair is out, it most likely won't last as long as many of the others.
Faux Locs
Faux locs have become a signature look for celebs such as Meagan Good. They're quite versatile and can be dressed up or down to match any occasion. But the best part is that the messier they get, the better and more natural they look! So you can definitely get a little wild with this style.
Jumbo Senegalese Twists
These twists are a great option for when you love single or box braids, but don't have the eight hours to spare that it takes to install them. Another great perk is that taking them down is a lot quicker and easier as well!
Pigtail Cornrows
This style may make you a little nostalgic, but believe me, if Joan Smalls can give this look the stamp of approval, then it's definitely something worth trying in the summer!