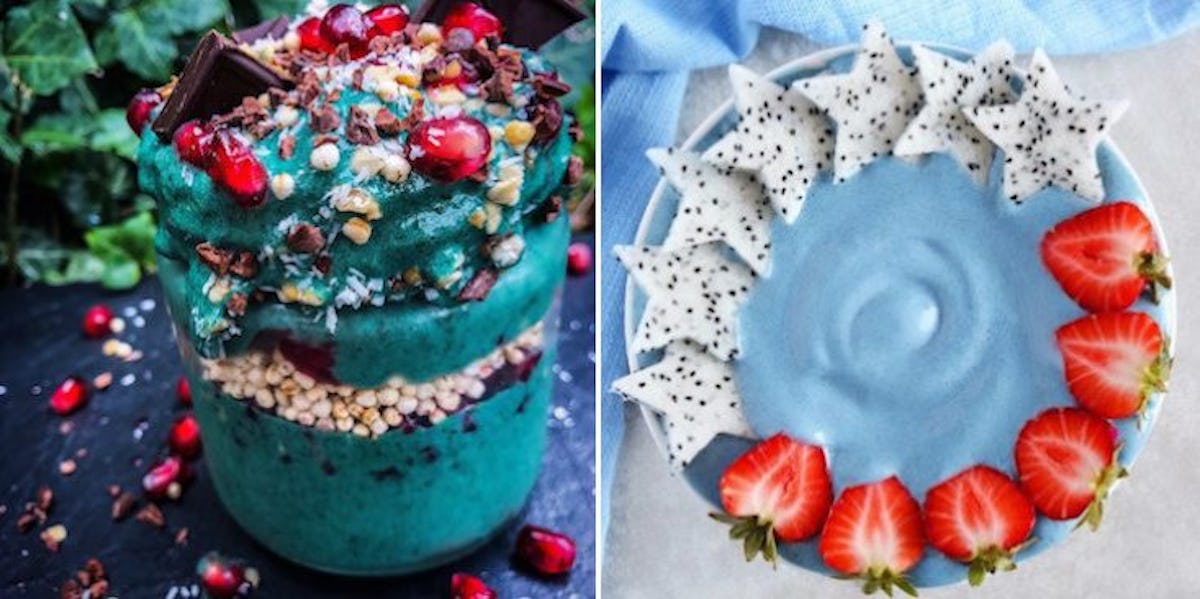 These 13 Insta-Worthy Spirulina Photos Are Basically What Dreams Are Made Of
Twitter/Instagram
Just in case you haven't heard (or seen), spirulina is the new "it" superfood of Instagram. The blue-green algae, sometimes referred to as "pond scum," has proven itself Insta-worthy partially for its many health benefits, but mainly because its pigmentation is super pretty and always changing, depending on what you pair it with.
From smoothie bowls to pastry icing, no one said you have to be a professional foodie to find creative ways to implement spirulina into your meals.
Browse through these gorgeous spirulina photos for a little eye candy and a lot of inspiration.
1. Stars And Strawberries
Pure Kaylie's smoothie bowl is blue and blissful, made with a banana nice cream base, decorated with spirulina, strawberries, and dragonfruit.
That's definitely one way to beat Monday blues.
2. Spirulina Breakfast Bowl
A recipe for Insta-stardom, Lina's identical bowls look good enough not to eat.
This breakfast bowl has a little bit of everything, from spirulina-spiked nice cream, to figs, and even dragon fruit.
3. Smoothie Bowl Made Better
Adding spirulina to your smoothie, bowled or bottled, instantly enhances its health benefits and pigmentation.
4. Breakfast Fully Loaded
My mouth actually watered at the sight of this overflowing spirulina smoothie layered with quinoa pops, dark chocolate, and fruit.
5. Light Blue With Lots Of Berries
Forget green smoothies -- these days, it's all about that baby blue hue.
Topped with a medley of berries, this spirulina smoothie is simple, sweet, and so nutritious.
6. All The Green Goodies
I'm low-key obsessed with smoothies presented in mason jars, especially if the contents of said mason jar are spilling over the top (anyone else just have a mouthgasm?)
A dash or two of spirulina powder and a drop of chlorophyll makes this smoothie a green, mean, health machine.
7. Blue Lagoon In A Bowl
What are the chances Nadi & Hatt will invite me to Australia and make me this bowl for breakfast, lunch, and dinner?
The vegetarian couple created this decadent bowl of nice cream with all the sweet stuff like frozen bananas, coconut, and raw chocolate.
8. Dark And Fruity
Spirulina is magical because, depending on what you mix it with, the final product is always a different color.
Luci's vegan bowl is a brilliant, mossy hue derived from greens like frozen spinach, avocado, and cucumber, topped with all the noms like banana, cherries, and granola.
9. Green Nice Cream
Personally, I'm partial to green mint ice cream myself (white tastes different, trust me), so this bowl instantly caught my eye.
One bowl serves up a ton of health benefits, and I guarantee you won't be able to stop yourself from going for a third scoop.
10. Ocean Blue Bowl
Who wouldn't want to dive head-first into this gorgeously delicious bowl?
11. Pineapple Boat
Let's talk about Tiziano's genius for a second. Not only does he top his spirulina bowl with fruit, he spoons it out of one.
I'm not drooling, you are.
12. Pigments For Your Palette
I scream, you scream, we all scream for spirulina nice cream.
This masterpiece is practically flawless, and the gradual shift from white to blue to black makes this jar a seriously delectable work of art.
13. Incredible Icing
This couple's Instagram account is full of spirulina inspo, but my personal favorite is this sneaky trick to change up a favorite dessert.
The gorgeous blue icing pictured gets its coloring from spirulina powder, which means this treat is both delish and easily digestible!
Drooling yet?