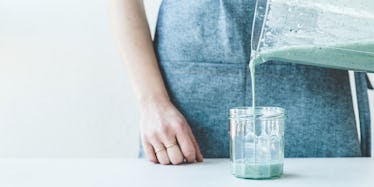 9 Ways Spirulina Can Breathe New Life Into Both Your Diet And Your Insta Feed
You know that super popular, blue-green algae thing people keep talking about on Instagram?
Well, it's actually called spirulina, and it's honestly incredible for both your body and your Insta page.
It's basically the superfood of the sea, and its plentiful array of nutrients and vitamins promise to nourish your body like nothing else you've ever tried.
Here are just a few ways spirulina can totally change the game when it comes to what you put in your body.
1. It Prevents Yeast Infections
Spirulina can actually help with preventing candida build-up, which is what can lead you to develop a yeast infection.
Studies have shown that this pond plant promotes the growth of healthy bacterial flora in the intestines, which halts candida from thriving.
Plus, spirulina's immune-strengthening properties can help the body eliminate candida cells altogether.
2. It Can Help Combat HIV/AIDS
A 2012 study showed that people in Japan, Korea, and the Republic of Chad have low incidences of HIV/AIDS, and those rates are actually correlated to their regular consumption of the blue-green algae.
Plus, the same study showed that, for people who have been diagnosed with HIV/AIDS, spirulina can significantly decrease the HIV viral load.
3. It Helps Prevent Cancer
Nowadays, it often feels like everything you consume can also somehow cause cancer, so it's a huge relief to see that something as organic as algae in a pond can actually prevent cancer.
According to the University of Maryland Medical Center, "a number of animal and test tube studies suggest that spirulina increases production of antibodies, infection-fighting proteins, and other cells that improve immunity and help ward off infection and chronic illnesses such as cancer."
Pretty mind-blowing stuff, right?
4. It's Jam-Packed With Nutrients 
This blue-green algae has a never-ending list of benefits and vitamins and minerals and, well, sorcery, probably.
Spirulina contains lots of protein, as well as vitamins A, B1, and C. Oh, and it also has omega 3-fatty acids, iron -- you name it, spirulina's got it.
The protein quantity is comparable to eggs, while vitamin B1 helps with increased energy, eye health, brain function, and improved nerve functioning.
5. It'll Make Your Drinks Look Freaking Beautiful
Am I the only one who feels extra healthy when my drinks take on a fun color?
Spirulina will do just that for you. According to Bon Appétit, "just a small amount of deeply-pigmented spirulina will change the color of your drink into a deep blue-green, almost black."
Prepare for the likes to roll in, baby.
6. It Boosts Your Energy
By adding spirulina to your everyday diet, you might just be able to ditch your usual morning cup of coffee.
The iron found in spirulina will fight off any feelings of fatigue and leave you with high energy levels that last throughout the day.
Goodbye, 3 p.m. slump.
7. It Controls Blood Sugar
According to a 2005 study, spirulina supplements can dramatically help type 2 diabetes patients manage their blood glucose levels.
This can be an awesome option for individuals who may prefer organic forms of treatment for their diabetes, or simply wish to add a little something natural to their usual prescribed medicine.
8. It's Fit For Any Smoothie
Since it's such an excellent source of protein, spirulina can make for the perfect addition to your usual smoothie.
There are tons of ways to add spirulina to your smoothie, as it often comes in a powder form.
My personal favorite is through a protein powder called Spirutein, which comes in delicious flavors like strawberry, vanilla, and chocolate.
Keep in mind the blue-green algae has a thick consistency, so adding it to your drink not only upgrades the taste, but it also makes you feel like you're consuming something more filling.
9. It Fights Infection
Consuming spirulina on a regular basis can really help to boost your body's overall immunity.
According to Progressive Health, studies show that spirulina can help treat influenza, as the algae increases the production and activities of the cells that cause you to develop the flu.
So, uh, is there anything spirulina can't do?!