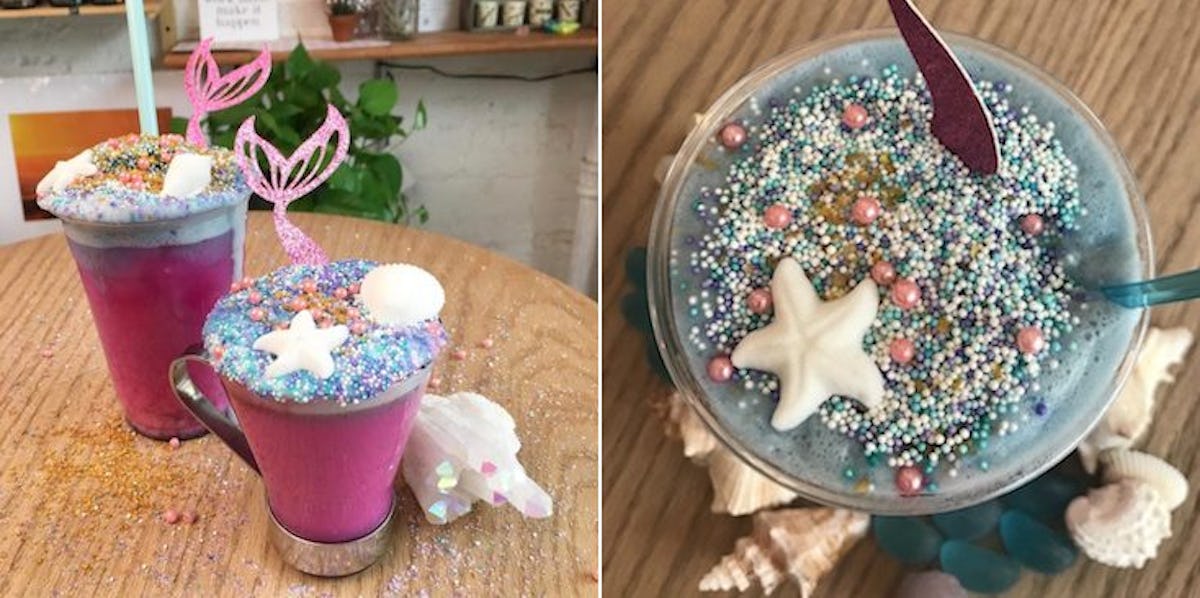 The Gorgeous 'Merbabe' Latte Exists And It's Making Serious Waves On Instagram
Hannah Weintraub/ Amanda Fama
In case you haven't already noticed, I'm a huge fan of colorful lattes (like, HUGE).
Of course, I'll settle for a cup of black coffee any day of the week -- but I'd much rather my morning fix be pink, blue and sparkly. That's why I was so freakin' obsessed with the Unicorn Latte when it came out.
The Unicorn Latte (not to be mistaken for the Unicorn Frappuccino) was released in January by a cafe in Brooklyn called The End. Needless to say, I became a loyal customer shortly after the unicorns were let loose.
Oh, side note: The End's Unicorn Latte came before Starbucks' Unicorn Frappuccino. In fact, the Brooklyn-based cafe recently sued Starbucks because they thought they stole their magical latte idea. So maybe the Merbabe Latte will be the next big thing -- but I digress.
Now that summer is quickly approaching, I've been on the hunt for a new go-to iced latte... and I think I found my new favorite.
It's called the Merbabe Latte, and it was created by the same masterminds behind the Unicorn Latte.
Hooray for mystical creatures!
The Merbabe Latte (as well as the Merbabe Iced Latte) is a refreshing new beverage available at The End through their plant alchemy bar. Almost all of its ingredients are found in the ocean, so it was named the "Merbabe" Latte.
You'll definitely be channeling your inner mermaid with this nautical drink. Plus, it's gorgeous. Can you imagine the Instagram pics you'll post all summer long?
In fact, some people have already started the #MerbabeLatte trend.
"This mer-made my day."
Not only is the Merbabe latte pretty AF, but it's also extremely good for you --yes, seriously.
The latte was inspired by hard-working, go-getter women who need a boost of energy from time to time. Therefore, The End created the Merbabe Latte to provide women (and men, of course) with the natural energy they need.
Elite Daily talked Madeleine Murphy, the co-owner of The End, and she told us exactly how the Merbabe Latte came to existence.
She said,
All the drinks I come up with, I like them to have a purpose and really kind of excite people. I'm constantly surrounded by the most inspiring women ever, and I think right now the 'Future is Female' movement is very real, and I just keep seeing all these people doing everything from having a family to running a business, starting activism movements, creative types... ...and I'm just so drawn, to like, 'What's a drink that really helps support these awesome females in my life, sort of on every level to nurture them physically? Your physical health, your emotional health, your spiritual health, your hormonal health' -- so I started looking up some of my favorite ingredients that I've used for that.
And so, the Merbabe Latte was born.
Maddy continued, "We have so much potential as women, but sometimes there's something holding us back because we aren't nourishing ourselves."
With the help of a Merbabe Latte, we'll get the natural energy we need to make it through our busy days (plus a really, really pretty Instagram picture).
A few superfood ingredients inside the Merbabe Latte are dragonfruit, schizandra berry, marine collagen (awesome for your skin), coconut milk with blue-green algae, co-co foam and kelp flakes.
Oh, we can't forget about the vegan sprinkles (aka, the ocean pearls).
This is one empowering latte, and I'm about to hop on the #Merbabe movement.
If you want to try one and snap a few pics for your Insta account, take a trip to New York City this summer.