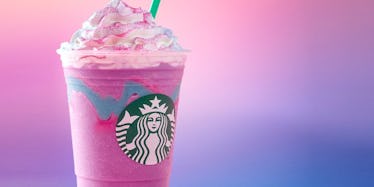 Starbucks Is Already Being Sued For The Unicorn Frapp Because Magic Is Dead
Starbucks
In the midst of all the unicorns, dragons, mermaids and narwhals that have taken over Starbucks throughout the past few weeks, I have some shocking news.
Starbucks is being sued for creating and selling the Unicorn Frappuccino, according to TMZ, and the magic is officially dead.
Update: A representative for Starbucks told Elite Daily that they believe the lawsuit has no merit, and that the Unicorn Frappucino was inspired by the ongoing social media unicorn trend. Starbucks also stated that the Unicorn Frappucino was only offered for a limited time in April and is no longer available in stores.
Earlier: Before you shake your head in disbelief, allow me to provide you with the proper information you're going to need to assess this sour situation.
For starters, let's look at the basics. The Unicorn Frapp is a sweet liquid treat with pink and blue assets. It has zero coffee in it whatsoever.
It's similar to the Unicorn Latte — a mystical beverage concocted by an independent cafe in Brooklyn called The End.
The End's Unicorn Latte (not to be mistaken for the Unicorn Frapp) also features bright blue and pink colors and lacks coffee.
It looks like this:
The End released their Unicorn Latte in December 2016 and filed paperwork for the name in January. Starbucks released their Unicorn Frappuccino in April 2017.
According to the lawsuit obtained by TMZ, owners of the Brooklyn cafe believe the original idea of a magical, unicorn-inspired drink was theirs and claim that the mega coffee company stole it after their mystical winter release, which Starbucks denies.
Take a look at both unicorn-inspired beverages and compare the sweet beverages.
Although Starbucks' mystical drink bears similarities to The End's Unicorn Latte, Starbucks insists they didn't steal the idea and also told TMZ that the lawsuit has no merit.
A representative from the coffee company told TMZ that their unicorn drink was inspired by unicorn trends taking place on social media at the time.
(Ah, yes. Remember the unicorn food craze?)
Even so, The End wants Starbucks to pay them for allegedly taking the idea and to stop using unicorns on its drinks and products. The independent coffee shop is also seeking a public apology.
They also believe customers have been getting confused between the Unicorn "Latte" and "Frapp." We'll have to wait and see what happens if the unicorns end up in court.