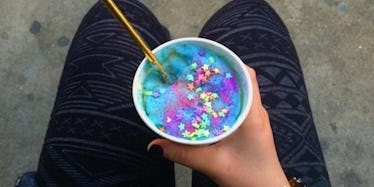 Colorful Unicorn Lattes Are Here And They're Actually Magical For Your Health
Instagram
Wow, guys. You're going to have to give me a moment because I've been stunned by the beauty of a magical new beverage called the Unicorn Latte.
Yes, it is as majestic as it sounds and it is the prettiest drink I've ever laid eyes on.
Thanks to a cafe in Brooklyn called The End, the gorgeous new bev is about to take the colorful food market by storm (buh-bye, rainbow bagels).
I'm irrationally excited about this news because The End is a few blocks from my apartment, and you better believe I'm going to try one for myself.
(I'll post pics on Instagram, don't worry.)
If you're nowhere near good ol' NYC but are still dying to know more about the Unicorn Latte, have no fear.
The genius cafe gave Mashable the scoop on the beautiful beverage, and it sounds truly magical.
Apparently, the latte doesn't even have caffeine in it... but don't turn your backs just yet (I'm talking to all you coffee fiends out there).
Regardless of its eye-catching pastel colors, the drink is actually good for you.
Its ingredients include lemon, ginger, honey, coconut milk and live blue-green algae. Shockingly, the algae are what give the "latte" it's pretty sky blue color.
To finish the drink off, the baristas sprinkle the frothy top with vegan sprinkles, edible flowers, and turmeric and pomegranate powder.
So, on top of being goddamn gorgeous, the Unicorn Latte is healthy AF.
Speaking of health, the beverage is reportedly a "healing latte" as part of the Plant Alchemy Bar menu at The End.
The healthy menu features clean drinks that help customers "awaken your senses, elevate your mind and enhance your greatest superpower: your intuition."
While commenting on the Unicorn Latte, The End told Mashable,
It was named the Unicorn Latte because the recipe is made to help tap into your most mystical, colorful and vibrant self. We want you to fly high and this drink helps you do so.
I don't know about you, but I'm about to ditch my morning coffee for one of these beauts.