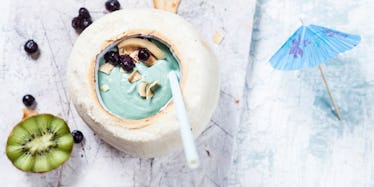 9 Easy Ways To Add Some Spirulina To Your Diet And Give Your Body What It Deserves
Normally, I'm up on my superfood trends before they even pop up on Instagram -- but this one snuck up on me.
Spirulina, aka that pretty green powder spamming your social feed, has quickly made its way into the homes, hearts, and recipes of food bloggers everywhere, and if you haven't already, you might want to follow suit.
The loose powdered substance is a blue-green tinted algae, otherwise known as "pond scum" (tasty, right?), is a rich source of antioxidants, it's high in protein, and it's loaded with essential vitamins and minerals your body craves and thrives on.
It's super pretty to look at, but it's even better to cook with.
Kathleen Tan, Imlak'esh Organics superfoods enthusiast, says spirulina is actually one of the most nutrient-dense foods on the planet.
She tells Elite Daily,
It nourishes you on a cellular level; its complete protein is a key building block for every cell in the body. It's also a powerful anti-inflammatory because of its gamma-linolenic acid (GLA) content, which can help to combat chronic disease. Research has also shown spirulina can play a significant role in lowering cholesterol. It also alkalizes the body, detoxifies the system, and oxygenates the blood. The benefits are extensive  -- overall, it's an amazing superfood!
Basically, it's as essential for your body as it is for your Insta feed.
Here are a few recipes to easily help you up your spirulina intake, and bring a little blue-green beauty to your Instagram page.
1. Sneak It Into Smoothies
An obvious for health nuts adding anything and everything to their smoothie roster, spirulina adds an extra protein kick, as well as vital vitamins and minerals.
2. Put It In A Pesto Sauce
Whoever said being healthy was bland obviously never played with their food.
The best way to dive into a healthy diet is to take your favorite dishes and polish up the recipes accordingly.
If you love spaghetti smothered in pesto, spice it up with some spirulina.
The sauce serves up a generous helping of protein and skin-loving antioxidants -- and the taste is to die for.
3. Add To Lemonade
Spirulina is as fun to cook with as it is essential for your body, and with everything mermaid-esque trending these days, bloggers are coming up with creative ways to use the blue-green algae supplement as a pretty addition to their plate.
Shannon, of the plant-based vegan food blog The Glowing Fridge, came up with her own under-the-sea-inspired recipe that's a refreshingly cool and super photogenic combination of lemon juice, water, coconut vinegar, maple syrup, and spirulina.
Yum.
4. Superfood Salad Dressing
Swap your store-bought dressings for a DIY superfood vinaigrette.
Not only will the mixture have less fat and sugar as the already-made alternatives, the blue-green tint will make for an even more colorful dish.
5. Switch Up Toasty Tuesdays
I could eat toast forever -- toast with jelly, toast with butter, toast with peanut butter, avocado, eggs, I'll eat it all and go back for seconds.
Put a superfood spin on your toasty Tuesday tradition with this recipe from HelloGlow that features a tapenade, which blends together fresh kale, olives, pumpkin seeds, and spirulina for an exotic taste to pair with a classic fried egg.
6. Enhance Your Energy Bites
Energy balls have bounced their way all over Insta feeds recently, and if you haven't heard of the no-bake bites, it's time to start following more foodies.
The most popular renditions have nut-butter bases for high levels of protein you can squeeze in between meals.
Simply Quinoa's recipe, however, focuses on a rich, chocolate flavor packed with superfood benefits from the likes of spirulina, maca, and cacao.
7. Put It In Your Pancakes
Now here's a stack of pancakes you can get away with eating for breakfast, lunch, and dinner.
Not that you shouldn't eat regular pancakes any time of day, but this recipe definitely has more nutritional value than the boxed stuff.
Made with buckwheat flour, coconut milk, spirulina, and cinnamon, it makes for a healthy, tasty pastry packed with nutrients.
8. No-Churn Spirulina Ice Cream
Ice cream is always a good idea, amirite?
Add a dash of spirulina to this chilled treat, and you've got yourself a delicious and super nutritious dessert.
Comprised of only four ingredients (coconut milk, agave, spirulina, and cacao nibs), this recipe from Nuts.com is gluten-free, vegan, and 100 percent tasty.
9. Put It In Some Guac
The next time you're playing hostess, put a healthy spin on your appetizer plate -- and any leftovers are fair game to snack on or spread over toast for breakfast.
The five-minute prep time makes this guacamole that much more appealing, derived from avocado, tahini, and spirulina, for a heaping scoop of micronutrients.