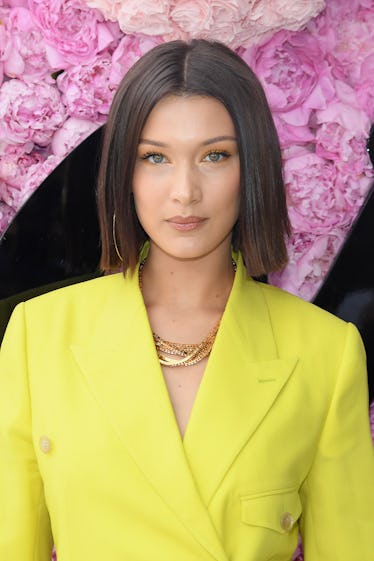 These Short Haircuts Are Going To Dominate Fall Beauty Trends, According To A Celebrity Stylist
Pascal Le Segretain/Getty Images Entertainment/Getty Images
This season's biggest and buzziest beauty news doesn't center on skincare, nor does it have to do with makeup or nail art. Fall 2018 short haircut trends seem to be all any beauty lover is talking about as of late and for good reason: I can't remember the last time that the majority of seasonal haircut trends were super short!
Below, celebrity hairstylist Arsen Gurgov, who regularly tends the tresses of Emmy Rossum, walks us through the three short haircuts that will be huge for fall. If you've been itching for a major change to your look, one of autumn's buzziest cuts just might be your answer.
The Piecey Pixie
Celebrities including Lupita Nyong'o, Ruby Rose, and Katy Perry have all opted for this style as of late, which is both super short and super easy to care for. "I think this style will be popular this Fall, because women like to go shorter after the Summer to get rid of the damaged hair left behind from a season in the sun and elements," explains Gurov. "They are also looking for a big change, want something that is playful, and are looking to pare down their hair care routine. I'm always surprised at the number of women that come into the salon that are not afraid to go short."
While the maintenance level is certainly way lower than that of, say, long, beachy waves, Gurov warns the piecey pixie will still take a little upkeep. "To keep it piecey, you will need to use a texturizing clay, wax or pomade daily and trim it once a month," he reveals. Compared to my twenty minute daily detangling session, that's nothing.
The One-Length Lob
You've seen this style season after season on some of the most fashion-forward celebrities around. Currently, Khloe Kardashian, Nina Dobrev, Emma Stone and Charlize Theron are all rocking the look. "A one-length lob, which is a longer version of the bob, is going to be a popular look for fall because it provides the freedom of shorter hair while still being able to maintain some of your length," explains Gurov.
"If you are not ready to commit to short hair and still want to be able to put your hair back in a ponytail, the lob is a great choice for you. It's feminine, modern and easy to manage." In terms of how to ask your stylist for this specific look, Gurov recommends telling them you're looking for a cut without any layers that grazes your shoulders or ends right above your collarbone.
The Blunt Bob
This is the cut that I dream about getting every night but am too scared to take the plunge on! It's 1920s-chic in all of its blunt and chin-length glory and makes literally everyone who rocks it look effortlessly cool. Just look at Lucy Hale, Jessica Chastain, and Jenna Dewan and you'll see what I mean. "The blunt bob is a very popular hairstyle and will continue to be for fall. I think it's so popular because it is very versatile as it suits many face shapes while also being very chic," says Gurov.
"If you are looking to modernize your look and want a low maintenance style, the blunt bob is the style for you. Whether with wispy bangs or without, this cut can be worn curly or straight and can be styled many different ways." If you've got the guts to go for this style, tell your stylist you'd like your hair cut right at the jawline.
Chop, chop!