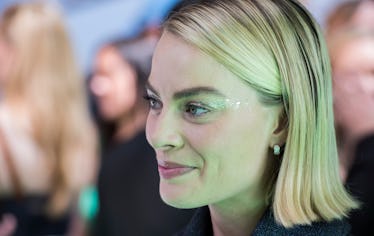 These Haircuts Are About To Be Everywhere For Fall & They're The Opposite Of Long, Beachy Waves
James D. Morgan/Getty Images Entertainment/Getty Images
This summer, the short bob reigned supreme in terms of the coolest cuts. Chin-length chops were cropping up on everyone from celebs to influencers to the girl across the hall, and according to fall 2018 haircut trends, they're not going anywhere. Short hair à la Daisy Buchanan is definitively in and it's here to stay, but if you prefer locks that reach past your shoulders, you're in luck, too.
Based on what trendsetting celebs and the most daring style darlings on each coast are opting for, I compiled a list of five hair cuts that will undoubtedly be everywhere for fall. I honestly wish I could test out all of them because they're super versatile and each boast their own unique edge. The chin-grazing chop holds a firm place on the list, but is also accompanied by a few iconic bang styles, a past-the-shoulder cut, and another, more forgiving bob shape. (Two bobs! Welcome to 2018.) No matter your hair texture, every style on the list is doable for you. Some are more daring, while some are more traditional. How gutsy or fashion-forward do you want to get this fall? Check the five styles out below and schedule an appointment at your salon, stat.
Baby Bangs
Baby bands are back with a, well, bang! As proven by Emma Watson, they can be done without looking overly punky or harsh. Whether you prefer them to be chopped in super blunt style or with a feathered effect, the bangs are sure to set you apart from anyone sporting classic face-framing layers or long, straight locks.
(Tri)Angular Bob
Along with dropping one of the best albums of the decade (I'm talking about A Seat at the Table, ICYMI), Solange also inspired a haircut revival. The triangular shape bob or lob — like this one sported by actress Tessa Thompson — is once again experiencing a cool renaissance, having been decidedly not chic since the '90s. If you've got thick or textured hair and want to opt for a shorter chop, don't ask your stylist to thin your locks via razoring or add lots of layers to your style. The geometric look is in.
Curtain Fringe
I know the term "French girl beauty" is tired and overused, but if there's one hair style that it makes me think of, it's curtain fringe. Championed and iconized by Brigitte Bardot, the bang style has been championed by countless Parisian beauties including model Jeanne Damas and makeup artist Violette ever since. Long, tapered bangs allow the look to be at once shaggy and soft, retro and restless. Wear them to the side, split down the middle, or flying whichever way the please. However they fall, they're bound to look perfectly tousled.
Chin-Length Bob
We've already covered this crop. In essence, go for the 1920s flapper look and you'll nail it.
Mid-Length Cuts
And finally, mid-length cuts are having a moment. Gone are the days when long, beachy waves topped every haircut trend list. Now, it's all about crops that are functional, yet edgy. If you're not ready for a bob or bangs, simply take your length up and inch or two until it falls just past your shoulders. It'll make styling your hair so much more manageable and will make your hair so much healthier in the process.