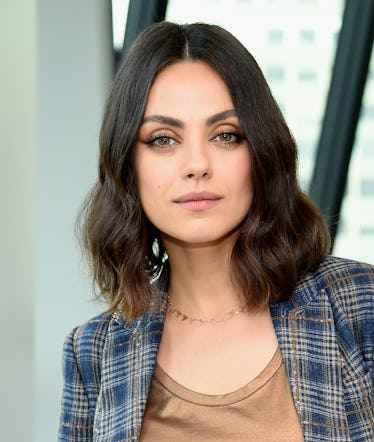 I Asked Stylists About Fall 2018's Biggest Hair Trends & Drumroll Please
Dimitrios Kambouris/Getty Images Entertainment/Getty Images
Summer is winding down (but you didn't need me to remind you, right?). Nevertheless, fall brings its bounty of chunky sweaters, oxblood-hued lipstick, and, of course, a reason to hit refresh on your 'do. Need inspo? May these fall 2018 hair trends be your guide.
"When the seasons change, it is very common to switch up your hair look," notes Cutler Salon Senior Stylist, Jenny Balding. A hair change, along with a fall wardrobe, can make you feel fresh and ready for the upcoming season, she adds. So, which hair looks will you choose to flaunt with your PSL next month?
Fall 2018 Color Trends
If you're currently rocking some high maintenance color (e.g. bleached blonde), you might just want to hold off on getting that root touch up. According to the owner of Butterfly Studio Salon, Kattia Solano, light hair colors with much darker roots are shaping up to be all the rage this fall. "I'm seeing a lot [of it]," she says, referencing celebs like Ariana Grande and Kim Kardashian as recent fans of the look.
Personally, I am all for a hair color statement that doesn't require salon visits every other week. Plus, if you've been dying to take the platinum plunge, now might just be the easiest, most cost-effective opportunity — all while leading the pack with your trendy new statement roots.
On the other hand, if you're a brunette who's not quite ready to bleach the heck out of your strands, no worries — there are still ways to autumn-ize your hair hue! According to Balding, subtle color changes — such as deepening your color to a richer shade of chocolate brown — are a great way to fall-ify up your look. Not to mention, autumn is an ideal season to reinstate color richness that the summer sun may have sapped from your strands. According to Solano, "color always need to be adjusted after summer due to sun exposure or chlorine from spending time in the pool." Not to mention, the sun can also causes brassiness. (In the meantime, try some of these SPF-spiked hair products!)
Of course, non-brassy, beautiful color is always in style. What differentiates trending fall 2018 hair color is the tone. "Last year we saw a lot of cool-toned browns and blonds," Salano says. "[This year] there are more warm colors," she says. Personally, I'm looking to this warm caramel hue on Jasmine Tookes for inspo!
Haircut
Drumroll, please. The hottest haircut for fall 2018 is... the bob! But this year's bob is significantly shorter than those of years past. "A length between jaw and shoulder is very popular right now," Balding explains. "Jenna Dewan is the perfect example of going shorter and shorter with her bob. It looks so chic."
Solano agrees on the bob front, noting that "a shaggy or broken up bob," will be in for the upcoming season. "This hair cut looks fresh and it's easy to grow out once you decide to bring back your length," she says. If, on the other hand, you prefer your bobs sleek and straight à la Dewan, consider fall your ideal season. "There is less humidity to worry about, so straight styles are not in danger of being ruined," Solano points out. Her one piece of advice for people who are scared to take the chop: "A bob will make you feel more modern — I promise. And if you hate it, it'll grow back fast."
Bob or no bob, Balding is noticing that women are more experimental than ever with their hair looks. "Instead of sticking to long, layered styles, they're feeling more confident to [make dramatic] change," she says. And, honestly, isn't confidence the coolest trend for any season?