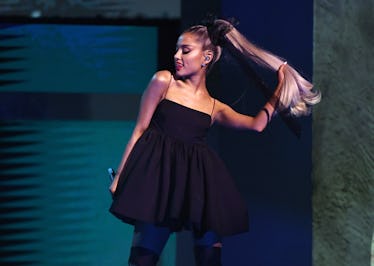 Ariana Grande Just Revealed Something Supernatural About Her Ponytail & I Have Goose Bumps
Ethan Miller/Getty Images Entertainment/Getty Images
If there's one topic within the entertainment and beauty spheres that's gotten way more air time and page space than you would probably ever imagine it should, it's Ariana Grande's hair. The pop princess' 'do, most notably her signature slicked-back ponytail, has been the subject of countless posts, articles, TV segments, and more, which is why her latest and most radical transformation — her foray into long blonde locks — has the internet so abuzz.
As Grande explained on her social media platforms in 2014, years of bleaching her hair and dying it red for her role on the Nickelodeon show Sam & Cat caused it to become severely damaged. Pulling it back into a ponytail was therefore the best way to hide the damage while allowing her hair to return to a healthy state. "My actual hair is so broken that it looks absolutely ratchet and absurd when I let it down … As annoying as it is for y'all to look at the same hairstyle all the time, it's all that works for now (and I'm comfortable for the first time in years)," she wrote in a post on Facebook. For years fans saw countless variations of her signature pony, which changed in color, length, and even split into two or three different ponies at various times.
Then, earlier this year, Grande appeared on the cover of British Vogue's July 2018 issue sporting a bare face and lightly tousled beachy blonde hair.
Naturally, people were in divine (and very pleased) awe. The singer looks absolutely stunning in the shoot and seeing her with a totally new look was refreshing and exciting to fans.
And earlier this week, Elle released its own Grande cover for the August 2018 issue, which also featured the singer sporting long platinum locks, though in a style decidedly less beachy and more old Hollywood glam.
Unlike her British Vogue cover story, Grande discusses her hair at relative length within her Elle story and reveals that her beloved ponytails might have actually served another purpose aside from masking her damaged hair: that of — wait for it — telepathy. "I meet Ariana on a sunny May afternoon. Her hair is styled in what I'll call a three-way—two platinum-blond ponytails pulled high atop either side of her head, a third section of extensions cascading down her back," wrote Elle Deputy Editor Katie Connor. "I ask if she is, in fact, communicating to her fans through her hair. 'I've never thought about it that way,' she says, giving one pigtail a twirl. 'But maybe there is a telepathic connection there.'"
Pigtails and ponytails as thought-transmitting antennae? Why the heck not. Perhaps some of Grande's superfans — Arianators, as they're called — really do follow her closely enough to have deduced whether or not she wears certain hairstyles based on her moods. If so, then that would, in a sense, be a means of telepathy. Right?
"For what it's worth, her favorite pony is 'the high, sleek, dark one. But she takes many forms. Many forms. There are lots of different girls in this sisterhood,'" continues the article. "Including totally ponyless wigs, like the one she wore for her ELLE shoot. (Slow claps to her hairstylist, Josh Liu, for swishing and tossing strands by the handful, just out of frame, for hours.)"
Seeing as she's got an upcoming wedding in the books (she was recently engaged to comedian Pete Davidson after a whirlwind romance), I expect we'll be seeing many more new hair looks from Grande in the months to come. Will she wear it up in a sleek coiffe for her big day or opt for flowy platinum locks that reach her waist? Only time will tell. But the fact that we're even asking that question of Grande proves her hair has made the major comeback she's so patiently waited for since 2014.