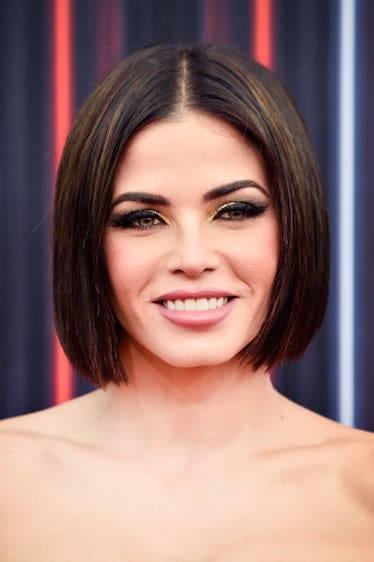 Jenna Dewan Debuted A Major Hair Change At The Billboard Music Awards & No One Was Ready
Frazer Harrison/Getty Images Entertainment/Getty Images
If there's one outfit that has lit tonight's sonically charged red carpet event on fire, it's Jenna Dewan's 2018 Billboard Music Awards look. From head to toe, the actress and dancer looks sleek and sexy AF — she's literally never looked better.
Fresh off her split from now-ex-husband Channing Tatum (which I'm still sobbing about, I can't believe it either), Dewan's new chop might be coined by some as a "post-breakup" haircut. (I am not ashamed to admit that I cut off about four inches of my hair after my two-year relationship ended.) However, I'd like to think that Dewan was simply feeling the ultra-short styles that have been taking over Hollywood and beyond as of late and decided to give one a try. And man, am I glad she did.
While the "French girl cut" — which features a jaw length bob and short, straight-across bangs — has been the look du jour, Dewan is making a case for the ultra sleek chin-grazing cut. Her new style looks to feature minimal layers, just enough to give the ends a slightly rounder effect, rather than a blunt, straight-across chop. Just under four hours ago, Dewan posted a photo to her Instagram Stories of a carpet with hair trimmings sprinkled all over it, captioning it, "Byeeeeee hair." In other words, her new cut is as fresh as it gets and might have even been done specifically for tonight's award show.
On its own, the cut is cool and polished. But when paired with Dewan's leather mini dress boasting the same qualities — short and sleek — its wow factor doubles.
Dewan's leather dress for the evening is what badass rock n' roll dreams are made of. Strapless and with a mini hemline, to call it sexy would be an understatement. Studded with metallic grommets in intricate designs and featuring tassel and fringe detailing, it's part '80s, part biker babe, and totally stunning. If I could steal the dress for my next birthday (or just to wear around the house to feel hot as hell in), I absolutely would.
Dewan accessorized the look with a pair of strappy black stiletto heels, studded with mini gold pyramids (just when I thought the heat couldn't be turned up any higher) and a boxy black clutch with gold hardware. Jewelry was kept to a minimum, from what I can tell, Dewan only added a few rings to finish off the look with.
The entire outfit and beauty look is a far cry from what Dewan wore to the 2017 American Music Awards. Her dress, designed by OTT, was a nude gown featuring a plunging V-neck and a long, trailing train. A "naked dress," the entire thing was absolutely covered in beads and sparkles, making Dewan look like a walking, talking Kira Kira filter. Its champagne hue looked insane against Dewan's glowy, fresh skin, and her short bob was given loose, effortless waves. Parted to one side, it was very different than the sleek style she debuted tonight. Her shoes, too, boasted a neutral sheen and, although incredibly sexy in its own right, the look had a decidedly more glamorous vibe compared to the edgy LBD she wore tonight. (I am all about the leather on her.)
I can't help but hope that this edgier look is the direction Dewan will be heading in with all of her sartorial choices from now on. The woman can rock anything and everything, but seeing as she used to be a backup dancer for some of music's most badass and game-changing talents (cough, Janet Jackson), rock n' roll styles simply feel right on her.