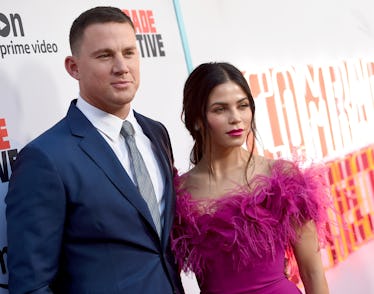 Channing Tatum & Jenna Dewan Announce They're Splitting Up So Love Is Dead
Kevin Winter/Getty Images Entertainment/Getty Images
I can't believe that I'm about to utter these words, but Channing Tatum and Jenna Dewan have called it quits after almost nine years of marriage. Is it just me, or is every couple in Hollywood that I loved for so long crumbling before me all at around the same time? I don't think I can take another major breakup this year, and it's only April. Sigh. This is a lot for me to handle and I basically believe that love is dead at this point, so let's get through this together.
Tatum and Dewan issued a joint statement on their breakup late on April 2, through Twitter, completely shocking and baffling their fans. The statement in part reads,
We have lovingly chosen to separate as a couple. We fell deeply in love so many years ago and have had a magical journey together. Absolutely nothing has changed about how much we love one another, but love is a beautiful adventure that is taking us on different paths for now. There are no secrets nor salacious events at the root of our decision — just two best-friends realizing it's time to take some space and help each other live the most joyous, fulfilled lives as possible. We are still a family and will always be loving dedicated parents to Everly. We won't be commenting beyond this, and we thank you all in advance for respecting our family's privacy.
The former pair also explained that while they felt it was strange to feel the need to share this with the public, they wanted to in order for the press or anyone else otherwise to not twist around their story and write misinformation about the reasoning behind their separation. It's honestly one of the friendliest and most loving celeb breakup statements that I've ever heard. If I ever pictured Tatum and Dewan breaking up and releasing a statement on their breakup to the world, this is what I would have imagined it would look and feel like.
Tatum and Dewan first met all the way back in 2006 on the set of the film Step Up, which they both starred in. Their storyline in the movie was super romantic, and if you've ever seen the movie, you know their chemistry was off the charts. So of course, love blossomed in real life between the two, and they quickly became one of Hollywood's cutest and most-loved couples. They got married just three years later in July 2009, and Dewan gave birth to their daughter Everly in June 2013. And now after about 12 years of being together, they are parting ways. I am completely heartbroken.
They were basically the picture perfect duo, and to be honest nothing seemed out of sorts between them. Both Tatum and Dewan have been posting pictures with each other on social media. Just four months ago in December 2017, Tatum posted the birthday Instagram to end all birthday Instagram for Dewan. In the post he wrote, "This creature is one more year beautiful. The transformation she invoked this year has been something they only write about in books of fairytale and magic." I mean c'mooonnnn. How can you write a post like that and then announce a breakup less than a half-year later?!
This breakup completely came out of left field, if you ask me. But then again, Tatum and Dewan did say that they are best friends, which is totally believable, and that their love for each other still remains. So I guess instead of feeling like love is dead, maybe we can all take solace in knowing a truly amicable breakup is in fact possible. Can you blame me for trying to spin this? BRB, still sobbing.