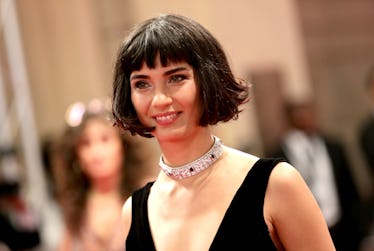 The Biggest Haircut Trend For This Summer Is A French Girl Fave & Ouiiiiii Queen
Vittorio Zunino Celotto/Getty Images Entertainment/Getty Images
Usually, crops that gain popularity in California in the summer consist of long beachy waves and face-framing layers. But one summer 2018 haircut trend that's blowing up on the West Coast and beyond completely defies that norm. French girl bobs are having a major moment in Los Angeles thanks to models and actresses alike championing the style and it is, expectedly, trés chic. Featuring a chin-length cut and brow-skimming bangs, it's the stuff Parisian cool is made of and I, for one, would love to try it out...if I had the guts.
I grew up fascinated by French culture and style. I went to a French international school in Denver and had a French major for a mother, which meant Le Petit Prince, Madeline, and Babar held court over my childhood entertainment. I studied French all throughout school, majored in it in college, and studied abroad in Paris my junior year. To this day, I am obsessed with the idea of moving back there to live, eat, and dress like a cool French girl, my greatest inspiration of all being Amélie. (If you haven't seen the film in which the fictional character, played by Audrey Tautou, stars, do so immediately. It's all kinds of quirky wonderful.) And her haircut in the film is the exact one that bronzed beach babes are vying for this summer.
As Refinery 29 writes, "the latest style du jour tracks back to L.A.-based model Taylor LaShae," a Texas-born French/ Colombian beauty who you will definitely want to be friends with upon taking one swift glance at her Instagram. As celebrity hairstylist Chad Wood told Refinery 29, "She is the chicest French girl you have ever seen — you just want to be her." Wood, who works with clients including Shay Mitchell, Mila Kunis, Jessica Alba, Olivia Munn, and more, recently gave Vanessa Hudgens a short crop inspired by LaShea. "Vanessa and I just mimic this girl, we're obsessed."
Um, same. And it seems like the rest of California (and America) is too. Short bobs have been increasingly cropping up over the past few months (Saiorse Ronan, Selena Gomez, Rowan Blanchard and more have all recently embraced chin-length cuts), though more so in the blunt '90s-style vein. The bangs and slight curl are what set this new style apart.
Hairstylist Sal Salcedo, who owns LA-based salon Nova Arts, is the man behind LaShea's crop and he gave Refinery 29 some pointers on how to ask for a similar style. Regarding the bangs, "The fringe should be above the eyebrows and get slightly longer at the temples so that it blends right into the length," he noted. The cut as a whole, he notes, is for women who love to be fearless and bold with their look. "It's daring, it's a strong statement, and it shows that the person wearing it is confident and that that their idea of femininity is not necessarily having long hair." Hello, 1920's!
Wood also chimed in on how to ask for the cut, recommending an even blunt cut that then receives a light point-cut treatment. This, he says, is what will give the ends of the bob a slight, effortless curl. "You have to take the corner off or it just becomes a normal bob, which can be a bit harsh" he explained to Refinery 29. "That little curl in the front, that is where it becomes French."
If you've been looking for a cut that's as easy and breezy as it is chic, I think you've found it in this incredible cut. No matter the texture of your hair, a variation of this style will work for you. If you have straight or lightly wavy hair, follow the advice above. If your hair is super thick, ask your stylist for some layers, and if your hair is super curly, keeping a little length will help to weigh down the shorter style. Et voilà!