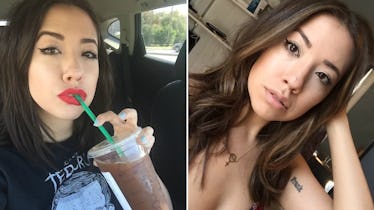 "Cold Brew Hair" Is The Official Hair Color Of Summer 2018 & My Strands Have Never Felt More Alive
Brittany Leitner
Some coffee shops keep their milk behind the counter. These are the ones I like to mark off in my head as "places I'll never go back to" as soon as I leave. I don't think anything infuriates me quite as much as letting someone else dress my coffee. If you ask baristas to leave room for milk, they leave about three inches, so I never do. If you tell them you want just a tiny splash of milk, they'll let their pour go on for ages. I'm sorry, but I know exactly what I want: a full to the brim cold brew, with just a tiny flick of milk. So tiny, in fact, that some might wonder why I do it at all. But that tiny amount of milk makes all the difference.
It takes your coffee from dark brown to brown (not light brown!), and provides just enough flavor that I know it's there, but doesn't overwhelm the taste of the coffee. And that's exactly what I had in mind when I told my colorist I wanted cold brew hair for the summer. To my great appreciation and unlike the countless baristas I've encountered, she knew exactly what I meant.
For this ultimately refreshing summer look, I visited Stephanie Brown, colorist at Nunzio Saviano salon in Manhattan. Brown is credited with creating stunning looks for Saturday Night Live stars Kate McKinnon and Melissa Villaseñor, and has been a colorist for 10 plus years, so I knew I was in good hands.
When I visited Brown for a color update, I had jet black hair, dyed myself from the drugstore box after I had bright blue hair about two summers ago. Ever since then, I let the box dye fade into a dark brown, which you can see here, in this starstruck moment I shared with Issa Rae just a few months ago.
I know, I know, you should never dye your hair from the box, but I like to think this rule doesn't apply to brunettes (though Brown disagrees). I simply needed to throw a dark shade over my Manic Panic blue, so I went with the fastest and cheapest option at my local grocery store, and it actually worked for me for a while. And, yes, if you're wondering, I also did the blue dye job myself.
Needless to say, my visit with Brown was long overdue. She began by teasing chunks of my dry hair, and applying color to the non teased parts, directly onto the foil. This is known as a process called "foilayage," which is basically like a more meticulous balayage. This way, I get to keep my roots, and have a very low-fuss look. AKA, I won't have to make a routine salon visit every few weeks.
After baking my head under the dryer for a few minutes, I was brought to the sink where Brown and her assistant applied toner and checked on any last minute adjustments to the color. For reference, here's me looking very calm and peaceful and not at all turning bright red in response to the heat from the hair dryer.
After the toner was rinsed out, I finally got to see the finished look, as stylist Maria Ashley gave me a blowout that was perfectly tailored to how I prefer to wear my hear normally, which is super piece-y, tons of volume, and bit of teasing at the root. I tease my hair literally every day (but like, in a punk rock way), but none of the stylists called out or noticed any root damage, which I like to chalk up to being young and still in the process of causing the damage, without actually seeing the long-term effects of that damage.
Though, Ashley pointed out that teasing isn't necessarily bad, you just have to be gentle when you do it, which I will now make a conscious effort to do going forward.
Less than two hours later, I was left with a no-fuss, sleek, and brightened look for the summer. And in case you were wondering, I did get the perfect iced coffee to celebrate. Starbucks always lets you add just the right amount of milk at the do-it-yourself station near the exit, and Stephanie Brown added just the right amount of color to my dark brown locks.
If you're at a total loss on how to brighten up your brunette 'do for the summer, look no further than cold brew hair. It's the easiest, no-fuss way to add some depth to your dark hue, and it'll last the whole summer without ever needing a touchup.