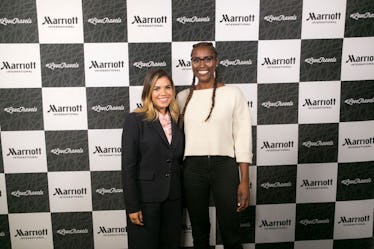 Issa Rae & America Ferrera Have Some Words For People Who Think All Americans Are Born Equal — EXCLUSIVE
Marriott International
This past weekend, the Marriott International held its EmpowerMe event in Philadelphia, where the National Black MBA Association and Prospanica came together for a multi-day conference, including a discussion on higher education equality. And to do so, Marriott chose the very best: activists and actresses Issa Rae and America Ferrera, who brilliantly shut down the idea that every American starts out in life at an equal playing field, among other powerful girl boss moments. Elite Daily spoke with both Ferrera and Rae before they spoke in front of an audience with moderator T.J. Holmes to discuss how activists can find their "community" no matter where they are, why education should still be at the forefront of America's critical issues, and how young men and women of color can empower each other.
During her panel with Ferrera, Issa Rae says she didn't start out looking to be an activist, but has since used her platform to elevate others spearheading messages that feel authentic to her and her mission. In college at Stanford, Rae began writing and filming videos, which ultimately let to her YouTube Series, "The Mis-adventures Of Awkward Black Girl," and now as she's currently known, the creator and star of HBO's Insecure. Ferrera, who began acting at age 17 with major roles in movies like Real Women Have Curves and the Disney Channel film Gotta Kick It Up, said she realized early on that if she was going to be given opportunity with acting jobs in Hollywood, she was definitely going to make sure she took roles she and the Latino community would feel proud of. She has since gone on to star in Ugly Betty and, currently, Superstore.
Here are a few things the actresses had to say about inclusivity and diversity in Hollywood.
Rae Addressed Her "Controversial" Emmys Comment
Rae often picks and chooses who she decides to respond to and educate on Twitter, which she jokes is usually the result of having a few cocktails and airing her frustrations. Recently, trolls came at Rae for the comment she made during the 2017 Emmys red carpet, in which she said, "I'm rooting for everybody black."
Rae also discussed the concept of black people being racist with T.J. Holmes during her panel discussion. Rae said,
We're so content in being able to deflect the real issue at play, and I think for me that frustrates me ... just the very definition of racism escapes so many white people, and just being able to sweep those issues under the rug [is privilege.] I wouldn't have to root for black people in the first place if [white people didn't create] a history of not rewarding black talent and talent of color.
Rae added, "At the end of the day, it is the very reason I said what I said and I still stand behind it because I have that right."
OK, Twitter trolls, any questions? Because Rae has an answer for you and it's the truth, and you're probably not going to like it.
She continued,
You created me, you created the statement. At the end of the day, I'm not racist. I can't be racist. You will never understand that because you have the privilege in being able to ignore that.
Cue the slow clap.
On The False Notion That All Americans Start Out Equal
Those who get uncomfortable at the idea of racism, or refuse to acknowledge it, are what Rae calls "willfully ignorant." Rae told Elite Daily,
Sometimes as people of color, we feel an obligation to have to educate these people, but they really just need to want to be educated. So many times I feel like it's just not my job to have to educate you, but I find myself educating them at the end of the day because I don't know who else will.
Rae says this kind of ignorance often perpetuates itself in a cycle.
They're obviously surrounding themselves with other people who feel the same way, and unfortunately, those people grow up to raise kids to be also just as ignorant. Unless those kids are able to expand their social circles and meet people, and want to know how they can make a difference, it just doesn't happen.
Ferrera agrees. While in college at USC, she tells Elite Daily she got to school feeling totally out of place — even though she was technically on an "even playing field" as an incoming freshman. As a first generation college student, Ferrera was navigating the world of higher education alone, which has been proven to be a daunting task, often one that results in poor grades and in some cases even drop outs. Ferrera tells Elite Daily,
I remember getting to college and feeling devastated at how unprepared I felt to be there, how I felt like I was so behind, didn't get the right education to keep up with the other kids, and how I didn't belong there. I remember feeling really sad and depressed and didn't make any friends, and I just felt not capable of being there.
She added,
It was a struggle to stick to it and, as we know, it's hard for young people to stay in school when they feel that way — especially when, on top of that, there's an economic burden of having to work at the same time, and support your family, and all the other obstacles that can come to young people in college.
But Ferrera offered advice at how she got through her own experiences of feeling like she didn't belong. She says,
For me, I try to imagine all the people who came before me, who had to be the only one in the room or the first one banging down that door, who had to go it alone so our generation can have a little more opportunity. And imagining that if we don't stick with it, if we don't fight our battle, then we're not doing right by the generation that comes after us to make it a little bit easier for them. It doesn't solve everything, but I think it's a perspective that sets you up to understand it's not meant to be easy; we're doing things that our families and generations before us couldn't.
There are so many hinderances young people have in not only getting to college, but navigating the world once they get there. Once we admit to inequality, we can then begin to address it.
On Finding Your Own Community Of Activists And Change Makers
In a world this exhausting (literally just a routine tweet from Donald Trump can make me feel like I just ran a marathon), Ferrera expressed the importance of recharging with your friends. Though I've routinely discussed how lucky I feel to live in NYC, where most people think like me in terms of politics, I understand how hard it can be for someone in a smaller town who consistently feels like an outsider.
Ferrera says if you can't find the community you long for, start one.
Find your tribe to re-energize and to take care of yourself to not feel alone. My advice would be reach out and build a community. If it doesn't exist, start it. Knock on doors, ask around, put up flyers, invite people to a coffee shop, and sit around and just be in community with people. That's something we do less and less in our culture, even just on a daily basis, so I think it's really important.
Either way, anyone looking to be a changemaker can definitely look to Rae and Ferrera for a pretty solid foundation of where to start. America may not be fully equal for everyone, but we all have access to information that can help us do better and be better people — and to help educate those who refuse to see there's a problem.