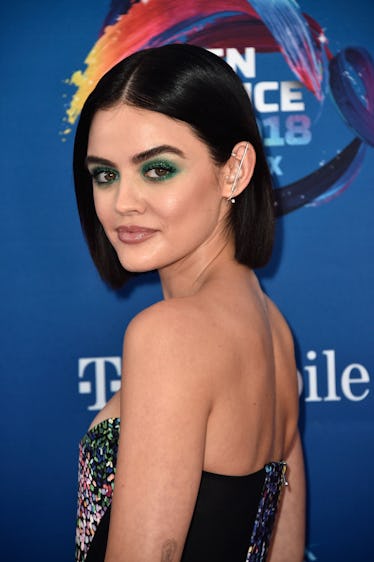 All Your Fave Celebs Are Rocking Glass Hair, So Here's How To Achieve It Yourself
Frazer Harrison/Getty Images Entertainment/Getty Images
Remember when your wildest hair dreams involved looking like the Victoria's Secret Angels with their layers of luscious, sexy-messy beach waves? For a long time, hair that looked lengthy and bouncy served as the unofficial symbol of cool-girl status, and celebs like Selena Gomez, Lucy Hale, and even Beyoncé (queen of changing it up!) didn't dare grace a red carpet without flowing, ethereal locks. In 2018, a new standard is long overdue, and it seems we've finally found another trend good enough to stick: Behold the glass hair trend, a celeb favorite that's sleeker, straighter, and edgier than ever before. Your early 2000s beach waves could never.
TBH, it never really made sense to me why celebrities with such bold personalities were opting to rock such soft, sweet hairstyles. Maybe that's why this new trend is so appealing to those who played it safe for so long. Glass hair is definitely not risky compared to other edgy styles like undercuts, but it still gives off the same cool-girl, no-nonsense vibes. The trend itself involves hair looking as glossy, smooth, and straight as possible, mimicking the pristine appearance of glass. But rather than just strands for days, the cuts are also as sharp as the term "glass" implies (think blunt, layer-free bobs, lobs, and the like).
After that, every time I scrolled through Instagram, I started to realize how many celebs had taken the glass hair trend for a whirl:
And then, I saw this video of Olivia Culpo flaunting the world's glassiest, glossiest hair, and realized I needed to learn the glass hair formula ASAP:
While these celebs likely had a little help mastering their looks, we don't all have a professional hairstylist at our beck and call to ensure we get it right. Fortunately, there are quite a few products that can help guarantee the glass hair of all of our dreams. I've made it a personal mission of mine to figure out the exact recipe for nailing this look, and I think I've got it down pat.
Sadly, glass hair isn't one of those trends that plays well with second-day hair — this look is fresh, and therefore, newly washed hair is a must. I highly recommend using the Fekkai Ironless Shampoo ($20, fekkai.com) and Ironless Conditioner ($20, fekkai.com). This silky duo is infused with a Straightening Complex that will get your soon-to-be-glass strands feeling soft and sleek.
Post-wash, comb out wet hair and coat it with a healthy dose of the Context Gloss + Repair Spray ($30 for 4 ounces, contextskin.com). This hair oil sprays on as a lightweight mist that tames frizz and adds a glossy sheen.
Once hair is prepped, it's time to dry. The Revlon Perfect Heat Smooth Brilliance AC Motor Styler ($25, revlonhairtools.com) is my personal blow dryer of choice. In this process, it's also important to use the right brush in tandem with your dryer to guarantee the ultra-smooth finish glass hair requires. The Olivia Garden Ceramic + Ion Turbo Vent Oval Brush ($30, store.oliviagarden.com) is the perfect choice, thanks to boar bristles that tame flyaways and straighten strands as they dry. Boar bristles also help to evenly distribute hair's natural oils, so your glass hair will look glossy, not greasy.
If hair still needs some extra straightening, don't hesitate to go in with a flat iron to smooth things over. (Don't go too wild with the straightener, though. Healthy hair is important.) Take a tool like the Pro Beauty Tools 1" Professional Ceramic Shine Digital Straightener ($34, amazon.com), which has ceramic plates to enhance shine and make sure the entire look is stick-straight. A bob or lob isn't technically required to achieve the look, but that seems to be the celeb cut of choice for glass hair, so the straighter and blunter the ends, the better.
Once hair is dried and straight, the only thing left to do is lock in that glossy, glass-like finish. This is, without a doubt, the most important step, and if you're a fan of aerosol sprays, the Tigi Bedhead Headrush Shine Spray ($21, ulta.com) has the ideal fine mist to create major shine without weighing hair down. Another perfect option to finish off the look is the Moroccanoil Glimmer Shine Spray ($28, moroccanoil.com), which not only gives off a luminous, glossy finish, but simultaneously protects the hair against damage from the sun, salt water, and chlorine. Perfect for a glass hair beach day, amiright?
Do you feel ready now to take the glass hair trend by storm? I do, and I can't wait to selfie away once I've mastered it. If you end up nailing this look, too, LMK, and we can recreate this iconic Kardashian double-glass-hair Instagram post together. But I'm Khloe, OK?