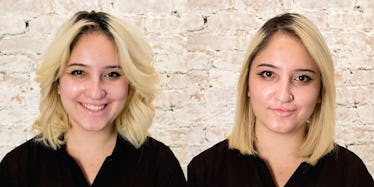 How To Style Your Hair When You Haven't Washed It In A Week And It's Extra Dirty
Confession: I wash my hair every seven days.
Truthfully, the real reason I can get away with my oil slick-mane all week is because my hair is so damaged. I went from black hair to platinum blond, which made my hair so dried up, I considered myself lucky if I was able to run a brush through it.
The less I wash my hair, the more the natural oils work their magic and restore some level of moisture.
However, even my damaged hair looks like a greaseball by day six. We've all been there though, too lazy to wash our hair and too overly confident to recognize we probably should.
In an effort to fix it up, we partnered with RPZL, New York City's first hair extension and blow out bar, to get the scoop on what we can do with our locks when we've spent a day too long sans-shampoo.
Try soft, romantic waves for that shady Bumble date you can't postpone.
Ideally, you'd have time to run home and wash your hair, but you don't like this guy enough to bother being your freshest and cleanest. If he can't love you at your worst, amirite?
RPZL Stylist Landy Boyce used a curler for this look. She twisted each strand once and wrapped it around the curler to create a wave. The key here is infusing some major volume that's more "oomph" and less "Real Housewives."
A sleek, long ponytail is ideal for a hungover Sunday brunch.
Sure, you can get your basic b*tch ponytail on, but everyone -- from your girls to the dude at your corner bodega -- knows you look like sh*t. Instead of fighting the oil, whip up a chic, easy look.
Boyce added extensions to this look (which you can buy here) and it made a world of difference. I went from Britney Spears at Starbucks to Iggy Azalea doing whatever Iggy Azalea does on Sundays.
Create natural waves for a weekend "Game of Thrones" binge session.
Take those giant pageant curls from Friday night and literally brush them out. I know it's a beauty sin, but that's what Boyce did and my hair looked on fire.
Just take your favorite hair brush and loosen out the curls while sweeping it all to one side (AKA, wherever your natural part falls).
Go big with your curls when a work crush invites you to an impromptu party.
Let's pretend you don't have time to actually wash your hair when you get home. Big curls that look like they spent for-f*cking-ever, but actually take no more than fifteen minutes, are a total must.
Boyce recommends wrapping hair flat like a ribbon against the curler for va-va-voom bounce.
Sleek and straight hair is all you need to rock those Tuesday morning meetings.
Never underestimate the power of a great straightening iron. Spritz on a heat protectant and get to work. Boost your locks by misting on either dry shampoo or a volumizing spray. No one wants a dick mane that resembles limp spaghetti, ladies.