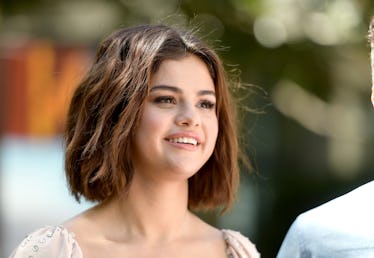 Selena Gomez Shaved Off Part Of Her Hair & I'm Seriously Buzzing About It
Matt Winkelmeyer/Getty Images Entertainment/Getty Images
Whenever I'm in need of a change, my first instinct is to hit up my hair salon and switch up the old 'do. Of course, once I actually get in the chair, I tend to chicken out, and my "change" goes from "chop all my hair off and dye it green" to "just a half-inch off the ends, pretty please." Welp, it turns out celebrities have the same idea when an itch for changes comes along. (Stars, they're just like us!) Selena Gomez debuted her new hair recently, hinting she wanted a change, and let me tell you, once you peep her new 'do, you'll be buzzing about it.
Gomez took to Instagram on Monday, April 23, to reveal her newest subtle, yet not-so-subtle hairstyle with a post captioned, "Always need a subtle change. @puma Germany family time 😊 grateful for the welcome!" In the photo, the "Wolves" singer's hair, styled in a high, long, braided ponytail seems pretty nondescript at first, but a closer look reveals that Gomez is actually sporting a buzzed undercut, an edgier trend that's been around for quite some time, but has picked up traction recently and is absolutely perfect for warmer weather.
Gomez also showed off the shaved style in a video on her Instagram Story. In addition to the long braid, she also sported a white tank top and hoop earrings and, frankly, glowed like a gorgeous, giggling goddess. (@ me for all of your alliteration needs, thank you very much.)
Apparently, Selena's itch for this kind of change may have even been news to her hairstylist, Marissa Marino. The celeb hairstylist posted the same photo of Gomez on her Instagram, with the caption, "My girl #selenagomez at it again...she loves to keep me on my toes! Thanks @timduenashair for making her undercut dreams come true! #newtrendalert @puma"
As Marino noted in her caption, while she was responsible for the styling of Gomez's overall ~lewk~, it was actually fellow hairstylist Tim Dueñas who executed the sleek undercut. IDK how exactly one copes with knowing they're about to shave part of Selena Gomez's head, but that's why Dueñas is clearly the professional and not me. Anyway, he posted the photos of Gomez's new 'do on Instagram as well, captioning his post, "When your friend calls you to give #selenagomez an undercut... @marissa.marino killing it with the styling. Thanks for letting me join in on the fun."
Selena Gomez certainly isn't a stranger to drastic hair transformations. Aside from never shying away from cutting off her long locks in favor of a neck-length bob, she also debuted an edgy, short, blond lob back in November 2017. Truth be told, going from Gomez's natural dark hair to a light and bright blonde apparently wasn't an easy process (go figure).
"Being that this was the first major color change Selena's ever done, it was important to us that her hair remained healthy and the tone was right for her skin," one of Selena's hair colorists, Nikki Lee of Nine Zero One Salon, told Us Weekly. Another hair colorist who made Gomez's blonde transformation come true, Riawna Capri, wrote in an Instagram caption at the time that the process wasn't a quick one:
It took 9 hours, about 300 foils, and 8 bowls of bleach, all with 2 stylist working together simultaneously, (@nikkilee901 and myself). It was a nice long patient process of baby fine slices, then going back and opening each foil and reapplying, but done in one sitting. Anything is possible in one day, it just takes time, no other clients ha, and patience to maintain the integrity of the hair.
Now, it looks like Selena had her fun as a blonde and has decided it's back to brunette (and back to long, cascading hair) for the time being. But no matter which way she slices it, her look is flawlessly edgy no matter what.