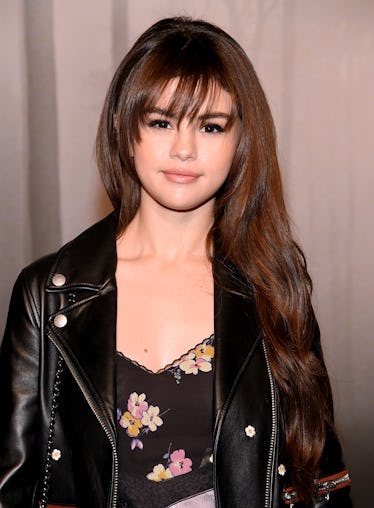 Selena Gomez Got The Trendiest Spring Haircut & It'll Make You Want To Chop Off All Your Hair
Jamie McCarthy/Getty Images Entertainment/Getty Images
Selena Gomez has had just about every hairstyle there is — short of a mohawk, I can't think of a cut or color she hasn't rocked. She's literally gone from waist-long brunette waves, to a bleached bob, and back, all in the span of a few short weeks. And these latest photos of Selena Gomez's haircut once again prove she is not only a beauty chameleon, but serious #HairGoals.
The 25-year-old singer stepped out at Coach's recent New York Fashion Week show just over a month ago and she made heads turn with her perfect pairing of wispy curtain bangs, a flouncy floral dress, and a leather jacket. Something about the combination made every fashion lover and Selena fan wish we could pull off her look that struck a perfect balance between '90s grunge and French-girl chic. Because every fashion girl knows a look is not complete until her beauty game is on point, her hair was the perfect complement to her superb styling: long with a slight bend throughout, and covered in a veil of copper tint that gave her brunette hair some extra oomph.
I never do anything to my hair (my cut and color has been pretty basic for a few years now), but I swear I almost got bangs that day.
It's been one month and five days and Selena Gomez is at it again (I told you she moves quickly). She ditched the bangs — which I'm pretty sure were clip-ons anyway — and cut it short — really, really short. We've seen her in short hair before, but I think this might be the most she's taken off yet.
She posted a photo on her Instagram last October with a similar style that was still long enough to lightly graze her shoulders.
Though the star has been known to rock extensions to give the illusion of length for events, red-carpet appearances, and photoshoots, she still went the extra step to chop off some more of her natural length. The new 'do totally clears her shoulders and hits about the halfway point of her neck. Translation: That's pretty damn short.
Out and about in Malibu, California with her new cut, Gomez styled it with a middle part, subtle layers, wavy texture, blunt ends, and a hint of that wet look.
But one thing remains the same — Selena clearly has a distinct style. Similar to her past looks, this one has that '90s-inspired, grunge look about it, especially the way she tucked both sides behind her ears and paired it with pitch-black oval sunglasses, wide-leg jeans (you know the ones that have dragged on the floor enough to get that frayed hem?), gold hoop earrings, and a stretchy tube top in a shade of blush.
In case you're thinking about stealing Selena's steeze, this look is much more of a commitment than her trés-chic curtain bangs. Not that I don't love how it looks on her, but this is not the look I will be calling my stylist to recreate. It's more of a style that I prefer to admire on the person who can pull it off, just like Selena just did. However, the way it shows off her collarbone — side note: for some reason, I'm obsessed with showing mine off; I even make sure to exfoliate it in the shower every day and apply highlighter when I go out at night, but anyway... — is making a super convincing argument for me. Because I'm too chicken, I'll have to stick with pulling my hair back to give my clavicle its time to shine.
If you're also unsure that you could pull off this look for yourself, not to worry, I'm almost positive Selena Gomez will serve up some new hair inspiration very (very) soon.