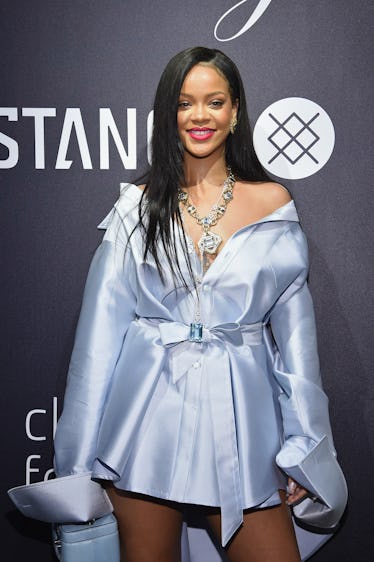 Rihanna Showed Off A Big Hair Change On Insta, So Excuse Me While I Call My Stylist, Too
Dimitrios Kambouris/Getty Images Entertainment/Getty Images
Another day, another celebrity transformation. But this time, it's all about Rihanna's new haircut, which she recently debuted on her Instagram Story the night of Wednesday, July 25. In the Boomerang, the bad gal herself is seen sporting blue cat-eye sunglasses, some sparkly earrings, tiered necklaces, and a red bra from her Savage x Fenty lingerie line. She captioned the snap, "Summertime flexin in my Candy Apple Red from #OnTheReg @savagexfenty." But even though the attention was presumably supposed to be on the bra, I couldn't help but notice Rihanna's gorgeous new jet-black cut, complete with perfectly slicked down baby hairs.
The post was so good that the @savagexfenty Instagram account uploaded it to their feed as well, with the caption, "@badgalriri gettin' #XtraSavage for the 'gram in the Microfiber T-shirt Bra! | Shop the summer's 🔥🔥🔥 color—Candy Apple Red from #OnTheReg | #Rihgram." And much like me, several of the superstar's fans noticed not only the bra, but also her latest 'do as well, and made no qualms about showing support for their queen's new look.
"Hold on bae wearing her real hair again?" one person commented. "That hair tho," said another. But this isn't the first time Rihanna has showed up with a new hairstyle while also promoting her intimates collection.
Rih flaunted a long, honey blonde look on July 21, while wearing the new Lightweight Microfiber Bralette ($29, savagex.com). As expected, fans were a huge fan of this look as well, as blonde is a color we only see every so often on the star. "YOU ARE THE HOTTEST, MOST SEXY BLONDE IN ALL EXISTENCE, BABY!!! I LOVE YOU, GORGEOUS! YOU'RE SMOKING HOT, MAMA!!!" one fan raved. And honestly, I agree with them.
But under all the wigs and weaves, Rihanna's hairstylist Yusef Williams has shared that the singer still makes sure to take optimal care of her natural curls underneath. "Rih's mom brings me hair treatments all the time," Williams told Refinery29 back in August 2017. "At the end of the day, you have to want to walk away from whatever you're doing with some hair on your head, so it's really important to take care of it." As for products, believe it or not, Rih uses some drugstore staples, but of course, she isn't afraid to splurge on some luxury goods as well. "I love the ORS Olive Oil Moisturizing Hair Lotion," the stylist revealed. "It's good for the hairline. High end, Peter Thomas Roth has a really good conditioner treatment that you can get at Sephora, and that's something that I use a lot. Phyto has a really good scalp treatment as well — I like to put it on and let it sit under the dryer, because it really moisturizes and promotes hair growth."
The expert also shared that he's a fan of using raw castor oil for hot oil treatments as well. And as much as celebs love to play with hair pieces, his best advice is to always let the natural hair breathe.
While Rihanna may be many people's inspiration when it comes to hair, the celebs who've influenced her styles the most over the years may surprise you. "This is probably confusing to most, but it's in between Toni Braxton from back in the day with all her short haircuts…and Cindy Crawford," she told Elle in February when asked about her hair idols. "She had the most effortless yet stunning hair."
I can't wait to see what style Rihanna debuts next!