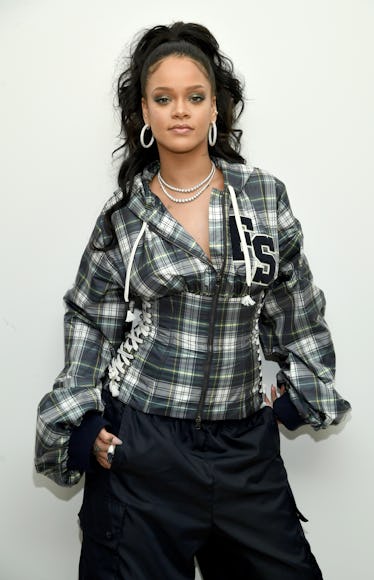 Rihanna Confirmed She's Coming Out With Lingerie & I'm Already Having Wild Thoughts
Dimitrios Kambouris/Getty Images Entertainment/Getty Images
Just when you thought 2018 was still a drag, our lord and savior Rihanna just confirmed a new project that's about to give us all some very, very wild thoughts. After much fan speculation, Rihanna finally confirmed that she will, in fact, be releasing a line of ~lingerie~. I'm sorry, I'm gonna need someone to call 911, because Rihanna literally just killed me. While we don't know much about Rihanna's Savage x Fenty Lingerie line, one thing's for sure: It's gonna be the most fire thing you've ever seen in your life.
On Wednesday, April 17, Rihanna first mysteriously teased a new project in a cryptic Instagram post featuring two old school TVs. She captioned the post, "didn't they tell u?" which naturally revealed absolutely nothing, so fans were left to speculate. Many thought the new project was going to be a new album and rightfully freaked out over the thought of new music from the queen, though some fans did correctly think the post could be a hint that some sort of lingerie line was potentially in the works. However, the speculation surrounding RiRi starting a lingerie line actually started long before that questionable Instagram post.
About a month ago, Women's Wear Daily reported that sources claimed Rihanna had made a deal with TechStyle Fashion Group, comprised of brands like Fabletics, ShoeDazzle, and JustFab, to create a line of lingerie. The source also claimed that this project had already been in the works for over a year. While neither TechStyle nor Rihanna's team commented on the news at the time, it looks like the rumors were, in fact, true.
On Friday afternoon, April 20, Rihanna herself took to social media once again to post another teaser on Instagram, this time confirming the name of the lingerie line and other details in her caption. The post featured a short video animation with the words "Savage x Fenty" and the caption, "We bout to light this up sis!! 🔥 ... introducing @SAVAGEXFENTY lingerie coming soon. sign up now at SAVAGEX.com !!"
The Savage x Fenty Instagram account (@SAVAGEXFENTY) has already racked up over 51,000 Instagram followers and counting. Rihanna also took to the account's Instagram Story to post a photo of herself teasing juuuuuust the strap and top portion of a bra. The undergarment seems to be an off-white color with light pink accents and is presumably from the line itself. This picture and this picture alone is my sole aesthetic for the remainder of 2018. That is all.
While Rihanna hasn't released any details as to when the Savage x Fenty Lingerie line is official dropping, exactly what designs the line will feature, and how much those items will cost, she has confirmed that the line is "coming soon." Hopefully, "soon" means "in the next five minutes," because I don't know how long my heart can wait for this. Seriously, I need it now.
In the meantime, both Rihanna and the Savage x Fenty Instagram account have pointed fans to the line's website, SavageX.com, to "sign up." Visiting the site directs you to a page where you're asked to enter your email and the country in which you reside.
After entering your email, you're then prompted to enter your first and last name, your bra size, your underwear size, and your birthday. The bra cup sizes offered span from A to DD (the D cup is the only double size offered), and the bra band sizes range from 32 to 44. In terms of undies, the offered sizes at the moment span pretty far, with XS, S, M, L, XL, 1X, 2X, and 3X.
After inputting all of my own information (you best believe I'm gettin' on this damn list), I was shown a message that read, "Thanks, Theresa. We'll be in touch," and received the following email:
Unfortunately, Queen RiRi hasn't divulged any other secrets about the line. For now, we'll have to do just as the above email says and "stay tuned for more." Anything for you, Rihanna.