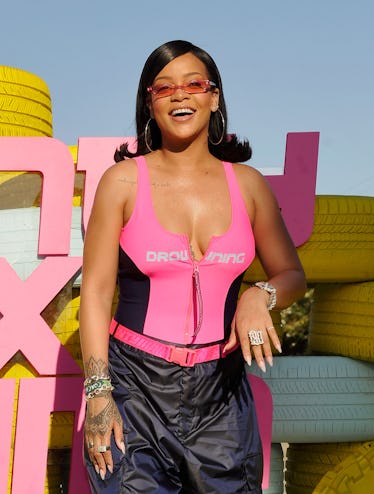 Fans Think Rihanna Is Dropping A New Album Because Of This Cryptic Tweet
John Sciulli/Getty Images Entertainment/Getty Images
EVERYBODY NEEDS TO CALM DOWN. I CAN'T STAND THE CHAOS. Is it possible Rihanna just dropped massive news on Twitter? Yes. Could she be making new music? Yes. Is she the most badass woman of all time who can somehow rock every shade of lipstick ever? Yes. Is Rihanna dropping a new album? MAYBE. IDK, IDK, IDK. Rihanna just posted a cryptic tweet on Twitter that has fans questioning everything, but especially wondering if a new album is on it's way from BadGalRiRi.
On Tuesday, April 17, Rihanna posted a mysterious picture of two television sets with the caption, "didn't they tell u?" These words are technically lyrics from her track "Needed Me" from her album Anti, but it definitely feels, like, specific. The image along with the caption is extremely artistic and definitely looks like it could be a still or screenshot from a music video. I'd be remiss to not mention a very ample bum is on clear display, too. Or maybe it's a bosom. Whatever it is, it's definitely round.
The tweet also stands out because it is the only one of it's kind. Lately, RiRi has been sticking to promoting her makeup line, Fenty, and sharing predominately pictures showing off her new products. So, you can imagine the universal eyebrow raise she gave fans when she posted this...
Hello. Yes. You have my attention.
Obviously, fans began jumping to conclusions right away. Mainly, everyone is hoping for a new album.
Despite the excitement, some fans were fast to mention it could be anything, considering Rihanna has become a full-on business icon. Thanks to all of her success in the cosmetics industry, some people wouldn't put it past her if she ventured into new markets.
Thanks to the seductive nature of the picture, a few folks think it could mean she's coming out with a lingerie line.
The truth is, anything this woman touches turns into literal gold, so whatever this it's guaranteed to be good.
Her music is as fresh as it is timeless (can I call Rihanna timeless?), and what I mean is I can listen to her any time, any day, and she never gets old. If you close your eyes and listen very carefully, I bet you can hear her crooning "ella-ella ay-ay" in the back of your head right now. Her last album, Anti, came out wayyy back in 2016, which is basically forever ago in fan years. For these reasons, she's sort of due for a new album, anyway.
Of course, it's fair to says she's been a little busy taking over in the aforementioned beauty industry.
When she decided to make the jump into makeup, the world was ready. Fenty Beauty is the self-proclaimed "new generation of makeup" that is as high-quality as it is diverse. On the website, there is a special note from Rihanna that reads:
FENTY BEAUTY WAS CREATED FOR EVERYONE: FOR WOMEN OF ALL SHADES, PERSONALITIES, ATTITUDES, CULTURES, AND RACES. I WANTED EVERYONE TO FEEL INCLUDED. THAT'S THE REAL REASON I MADE THIS LINE.
Her website also mentions, "She launched a makeup line 'so that women everywhere would be included,' focusing on a wide range of traditionally hard-to-match skin tones, creating formulas that work for all skin types, and pinpointing universal shades."
Between her music and makeup, Rihanna somehow organically bridged the gap from rockstar to woman-of-the-world, making fans feel both included in her world while she simultaneously stands out as Queen.
If a new album is coming, it's already the best thing that's happened to me and her fans, second to her body lava formula. Just sayin'.
Check out the entire Gen Why series and other videos on Facebook and the Bustle app across Apple TV, Roku, and Amazon Fire TV.