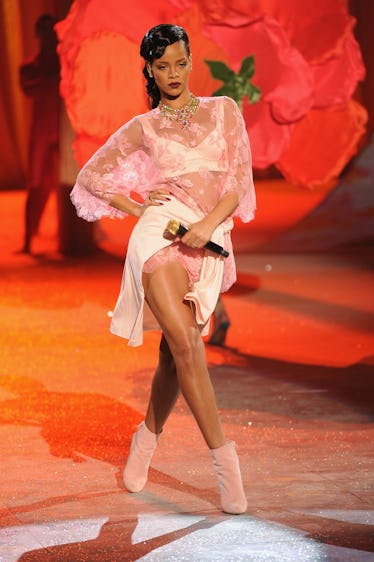 Rihanna Is Reportedly Dropping Lingerie, So Get Ready To Wear Fenty ~Everywhere~
Jamie McCarthy/Getty Images Entertainment/Getty Images
Guys, this is not a drill. A rumor has been going around that Riri might have a new brand launch in the works that's on the same level as Fenty Beauty, and some exciting new developments have come to light. Is Rihanna dropping lingerie? All signs point to yes, so get ready to work, work, work, work, work, work in some brand new, undoubtedly hot-as-hell bras and underwear.
According to an article published on Women's Wear Daily, Rihanna is said to have signed a deal with TechStyle Fashion Group for a lingerie line, although the singer has not confirmed it herself. Known previously as JustFab, TechStyle owns a number of successful celeb-backed brands, so it would make sense that Rihanna would choose them for a collaboration. The company's portfolio already includes Kate Hudson's Fabletics and Kim Kardashian's ShoeDazzle, so working with high-profile individuals is nothing new to them.
If you are screaming thanks to this news, you are not alone. I can't think of any other celebrity I'd rather see design lingerie except maybe Beyonce, but that's a debate for another day. Not only is Rihanna absolute style goals, but she's sexy style goals — everything she wears oozes confidence and empowerment. Remember the sparkly see-through Adam Selman dress she wore to the CFDA Awards in 2014? It completely set the stage for the naked dress trend that took over red carpet style for the next few years and proved that visible undergarments (and women's nipples!) don't need to be sexualized. (For the record, she accepted the CFDA Fashion Icon Award that year like the deserving boss she is.) She's since rocked a sheer robe and lacy thong in her music video for "Needed Me" and championed bras-cum-tops on countless occasions.
Who better, then, to design lingerie? To me, bras and underwear are a means of sartorial empowerment and intimacy. They are a source of confidence and should be designed by women who feel the same way. And seeing as Fenty Beauty is one of the most inclusive and therefore game-changing beauty brands to date, I have a feeling Riri's lingerie brand might have a similarly powerful impact on the fashion world.
While certain brands are starting to expand their clothing sizing to become more inclusive, the industry as a whole still has a long way to go before bodies of all shapes and sizes are truly represented, celebrated, and catered to. A lingerie brand offering something for literally everyone and helmed by the most-adored woman on earth would certainly help progress that goal.
Of course, Rihanna's designs for Fenty x Puma should also be noted. They're innovative, trend-setting, and wearable, and prove that the singer knows what she's doing when it comes to creating clothing that people actually want to wear. For the brand's campaigns, Rihanna also makes sure to cast a diverse selection of models — a practice that also needs to become commonplace within an industry that's still all too whitewashed.
As I mentioned, Rihanna herself still has yet to confirm the collection, but a source told WWD that "TechStyle has been working on the project for more than a year and samples have already been produced." I'm going to go right ahead and trust this source knows what they're talking about because I need some Rihanna lingerie in my life STAT. As soon as it drops you better believe I'll be buying myself a set (I'm hoping price points will be similarly low to those of Fenty Beauty and Fenty x Puma) and there's no doubt in my mind I'll be singing, "Where have you been all my life?" as I pull it out of the box.