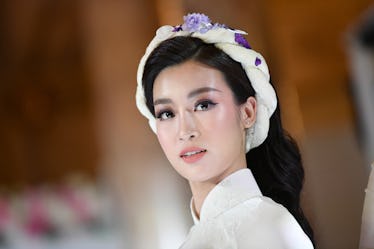 This Super Popular K-Beauty Trend Makes Your Skin So Dewy, It Glistens Like Glass
Emma McIntyre/Getty Images Entertainment/Getty Images
Korean skincare has been taking the world by storm for a number of years now, and the glass skin trend has been making beauty lovers try everything under the sun to achieve the pore-less, dewy look. "Glass skin is this idea of transparent and translucent skin," Alicia Yoon, founder of Peach & Lily, explained to Refinery29 back in September 2017. "It's a sign of youthfulness and it's one of the most strived-for qualities in Korea."
Of course, everyone's regime is going to be different, depending on their skin type, but there are some staple products and techniques that are likely to give you the dewiest skin of your life, if that's what you're going for. But it's important to note that achieving this look can take time. "This combination of ultra-smooth texture and super translucency can be hard to achieve with products alone," Yoon continued. "It's not something you get overnight – it's consistent skincare that gives you that refined texture, the pinnacle of youthful skin." Still, some people have got the coveted routine mastered.
Los Angeles-based makeup artist Ellie Choi, who said she has combination skin, went viral back in October 2017 after sharing her best beauty secrets for glass skin on social media, Allure reported. First, Choi uses Makeup Remover Cleansing Towelettes from Neutrogena ($6.99, ulta.com) to get rid of all the makeup on her face. Then, she cleanses with either Cetaphil's Daily Facial Cleanser ($8.99, ulta.com), or Kiehl's Ultra Facial Cleanser ($20, kiehls.com). Both products work to remove all excess oil, dirt, and makeup without drying the skin. Every other day, Choi also exfoliates after cleansing with Skinfood's Black Sugar Strawberry Wash Off Mask ($11.50, ulta.com) to give her a "healthy, natural glow."
Afterwards, the makeup artist said she moves on to toner. "I use Clinique Clarifying Lotion 3 ($24.50, sephora.com) toner after face wash to remove any remaining dirt and oil for that extra clean," she shared with Allure. Next, Choi applies a "decent amount" of moisturizer — either Cetaphil's Moisturizing Cream ($15.99, ulta.com) or Wonjin Effect's Water Bomb Cream ($34, wonjineffect.net)
Refinery29 also recommends using a number of products, like TonyMoly Appletox Smooth Massage Peeling Cream ($19.67, cultbeauty.com)— which works as an all-in-one massage cream, exfoliator, and mask — to get rid of dead skin cells and brighten the complexion, as well as Be The Skin Non-Stimulus Face Polisher ($29, peachandlily.com), which helps to smooth the skin.
But Choi also revealed that her skin isn't just a result of products alone: "For me, eating fried and greasy foods affects my skin," she said. "Make sure to drink tons of water daily! Eat more [fruits and vegetables]." Considering her skin looks stunning, I'll take her word for it.
Beauty blogger Chriselle Lim also shared her six-step glass skin routine on her site, The Chriselle Factor, which admittedly is quite pricey, but she swears it's all worth it. First, Lim cleanses with Royal Fern's Phytoactive Cleansing Balm ($85, neimanmarcus.com) to get all the dirt and makeup off her face. She follows up with Dr. Barbara Sturm's Calming Serum ($250, nordstrom.com), which Lim explained has hyaluronic acid to hydrate, smooth, and plump the skin. "It's like an instant skin refresh in a bottle!" she wrote. Lim then applies Giorgio Armani's Prima Glow-On Moisturizing Balm ($110, giorgioarmanibeauty-usa.com), which gives her a "dewy and radiant" glow, followed by a few spritzes of Mineralizing Thermal Spa Water from Vichy ($18, dermstore.com). The blogger finishes up by using one of her favorite ultra-hydrating sheet masks, then applies Giorgio Armani's Prima Day-Long Skin Perfector ($100, giorgioarmanibeauty-usa.com), which she said is a great base for makeup.
If you don't have the time (or money) for an extensive skincare routine, then you're in luck, because a product that pretty much offers the instant look of glass skin is on its way to the U.S. Straight from South Korea, VDL's line of primers promise a clear, pore-less look, while also offering glow with a pearl-pigmented formula, Allure reported. VDL primers will be available as of August 1 at vdlus.com.
So there you have it, folks — all the best tips, tricks, and products to achieve glass skin. Now, it's time to glow up!