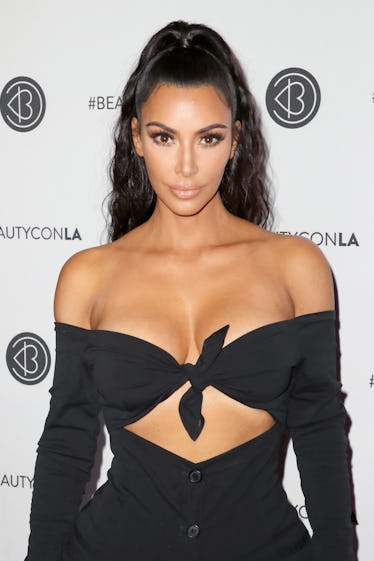 Kim K Just Debuted A Sleek New Bob Like Khloé's & I'm Obsessed With These Moms With Bobs
David Livingston/Getty Images Entertainment/Getty Images
Another day, another new hair change for one of the Kardashian-Jenner sisters to get the internet talking. On Sunday, July 29, Kardashian's longtime hairstylist Chris Appleton revealed Kim Kardashian's new short hair in an Instagram post of Kim and her hubby Kanye West with a caption that read, "Clean cut." In the image, Kim is shown rocking a new, ultra-sleek and shiny blunt bob. The shorter tresses were paired with a silver, long-sleeve bodysuit; a metallic, dark silver skirt; and black sunglasses.
Appleton also shared a series of subsequent posts about featuring the reality star's new cut, including a video of Kim K with an Instagram Story filter and a fierce AF car selfie, captioned, "🔥 @kimkardashianyesterday lookin fresh AF #chrisappletonhair @makeupbymario."
After Appleton's post, Kim, in true Kardashian fashion, then went on to post a video to her Instagram story, giving us a closer look of the new 'do, adding the text "haircut" to the video, and tagging the hairstylist. It appears as if the reality star took the quick snap as she was on her way to a celebrity charity poker tournament with sisters Khloé and Kendall, as she then proceeded to flood our IG story feed with a slew of behind the scenes snaps. In one of the videos, Kim stood with Khloé, who also just debuted a new blunt bob cut, and aptly dubbed them "moms with bobs." I'm not a mom, and I don't have a bob, but can I still be part of that group anyway?
Kim's new short mane comes after about two months of rocking long, waist-grazing, wavy, black extensions. Although going from the waist-length waves to a long blunt bob is a really drastic change, it's a type of transformation I've come to expect from Kim, who is no stranger to switching up her hair look. In fact, the short blunt bob actually isn't a brand new look for Kim, as we saw her with an icy blonde bob in December 2017, and various shorter styles in the past. Just this year alone, we've seen Kim rock blue-black hair, pink hair, and long, blonde hair, so it'll be exciting to see what new 'dos the mom of three will try out.
As unsurprising it is to see Kim with a new, updated mane, fans and followers inundated Appleton's Instagram post with a wide range of reactions. "That bob is sharpppp," commented one follower. "Obsessed! So sleek and fabulous!" commented another. Others, on the other hand, questioned whether or not the new look was a wig or her natural hair. Regardless, I think we can all agree that Kim K can rock a bob like no other.
In addition to slaying Kim's strands, Appleton is also the mane man behind a long list of other celebrity looks. Earlier this month, he gave J.Lo an ankle-length braid for a photo shoot, and back in June, Appleton was responsible for Ariana Grande's brown-to-blonde transformation for her July 2018 British Vogue cover. It's clear that the celebrity stylist's work is notorious for sending the internet into freak out mode, and this time is no different.