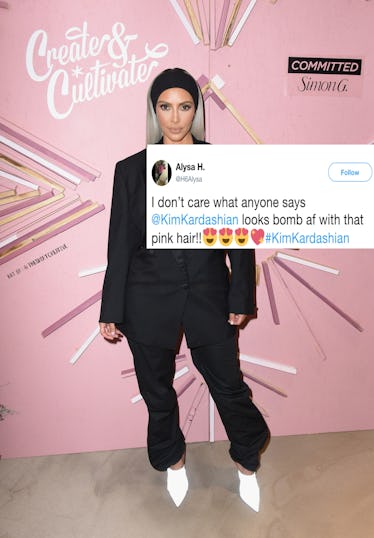 Kim Kardashian Dyed Her Hair A Totally Unnatural Shade & Twitter Is Coming To Her Defense
Vivien Killilea/Getty Images Entertainment/Getty Images
Kim Kardashian West loves to play around with her beauty looks, and her newest experiment will have you shook — the star changed her hair color in a major way. Photos of Kim Kardashian's pink hair are here, and the star proves she knows how to keep the world on its toes.
Kardashian West's younger sister, Kylie Jenner, constantly experiments with her hairstyles, whether it be through wigs, extensions, or actual hair dye, and is known for choosing very unnatural colors. Kardashian West has done a little of the same, but has mostly opted for varying shades of blonde. She bleached her hair platinum blonde to make a statement at Paris Fashion Week in 2015, and has been blonde for the last few months. Kardashian West is always open with her fans and shared how she bleached her hair on social media, but now it's time for some new tips from the star.
Once more, Kardashian West used social media to debut a new hair style. After posting a photo and a video to debut her Barbie pink 'do, Kardashian West then showed it off IRL and caused quite an internet uproar (in a good way) both times. The pink hair may surprise some fans, but Kardashian West is nothing if not daring when it comes to fashion and beauty, and I for one love it.
Kardashian West has been blonde for a few months now (basically a lifetime in celebrity land), and Tweeted that she wasn't exactly looking forward to going back to being a brunette. I don't think the world realized just what she had in store.
Kardashian West posted to Snapchat and Twitter to display her bubble gum pink hair. A matching pink teddy bear filter and her amusing facial expression captured her adventurous mood.
The star then posted a video of it, "Hey guys, do you like my new pink hair?" Yes, Kim, I do! Is it real? Is it a wig? When did you dye it? How long are you going to keep it? I have so many questions!
Kardashian West paired her Pretty Pretty Princess hair (who else used to love that game?) with a rather neutral outfit. The star is likely wearing her husband Kanye West's brand Yeezy; she's been known to model his collections by simply wearing them in her everyday life. And why wouldn't she? I assume she gets the clothes for free — yet another perk of being Kimmy.
Kardashian West flashed her pastel locks when she, Kourtney, and Khloe landed in Tokyo. Maybe she chose this hair color to fit in with Tokyo's Harajuku district, which is known for it's over-the-top colorful fashion? Kimmy hasn't filled me in yet about what they're doing in Japan, but she did answer some questions on Twitter about her new look.
One fan asked, "I wonder if it's just a wig or permanent color? because we know Kim doesn't play with wigs." Kim was right to assume that others might have the same question and wrote back, "I don't really do wigs. It's real." Wow! Kim Kardashian West really did dye her hair pink!
Some fans still questioned whether the look was 100 percent real, pointing out that Kardashian West loves her hair extensions.
One user weighed in, "Wigs or extensions.... potato potato... both versions not that real." I beg to differ. My semi-professional opinion is that she has extensions in, but she still also had to dye her real hair. Extensions are for extra length; Kardashian West's real hair is still there and she dyed it.
Aside from a few conspiracy theorists, most Kardashian stans were living for Kiki's pink hair.
Clearly, the Kimarmy is smitten for pink. As for whether or not momager Kris will indeed spring for blush strands next, Jenner recently copied Kim's blonde hair, so maybe. Frankly, I am all for whimsical pink hair, and there's no age limit on the fun.
If you want to get Kardashian West's look, Schwarzkopf's got2b Creative Color in Pretty In Pink is one of the best options. It'll run you about $10 and is available at CVS stores. You'll need lighter hair underneath to get the most out of the color, though. Remember how Kim had blonde hair right before she went pink? If she had been brunette and put pink dye right on top of her dark brown hair, you would have hardly been able to see the pink.
If you're not ready to bleach your hair to go full-on pink, try a temporary, spray-on color. Use however much you want for a pastel or more electric pink look, and wash it out in the shower when you're ready to go back au natural!