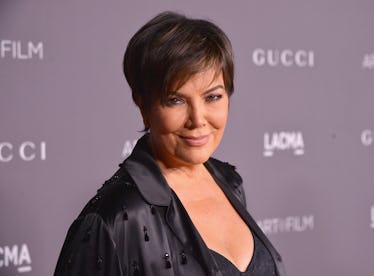 Kris Jenner Just Debuted A Major Hair Change & She Totally Copied Kim
Charley Gallay/Getty Images Entertainment/Getty Images
Another day, another celebrity hair color change. This time, the color chameleon is someone who's usually behind the scenes of some of the entertainment world's biggest headlines, but today, she is front and center. Photos of Kris Jenner's blonde hair are here and the momager is showing off that she can keep up with her famous daughters.
Almost as famous as the "Kar-Jenners," is matriarch Kris Jenner's short dark hair. While her daughters change up their hair like it's their job (which in a way, it is), Jenner has stuck with her dark pixie cut for most of her adult life, including the ten years that Keeping Up With The Kardashians has been on TV. Which is basically the only time period that matters, I hardly remember my life pre-Kardashians.
That said, Jenner is the master craftswoman behind most if not all of the Kardashian family's success, and knows that the key is to keep the public interested. I imagine she has some sort of elaborate calendar to decide when to announce big family changes, like Kylie Jenner's pregnancy. Any word on that one yet, Kris?
In the meantime, momager Jenner has put herself in the headlines with a surprising new hairstyle, a platinum blonde pixie cut — check out the photos below!
"January 2nd back at work here we go!!! Makeup: @makeupbyariel Hair: @chrisappleton1 #MotherDaughterTuesday #happynewyear2018," Jenner waisted no time reinventing herself in the new year.
Celebrities are known to opt for wigs when they suddenly appear with a new hair style, and Kylie Jenner has a room full of wigs, but Kris Jenner tagged Chris Appleton in her photo, who is a Kardashian family-favored hairstylist. Appleton is actually the one who creates Kim Kardashian West's blonde hair, and since Jenner alluded to being with one of her daughters during the hair transformation, I'll venture a guess that she and Kardashian West were going blonde together in their at-home salon.
Jenner actually had fun as a blonde once before, in November of 2017, although that time she wore a wig and the style was only temporary. Twitter, and myself, loved her look, so I'm glad it's back.
Kardashian West posted a photo of herself with her blonde mother back in November to show the strong family resemblance. Jenner often jokes that Kim is her favorite child, so it's no coincidence that she is copying her look.
Kardashian West rocked a shorter blonde length for the family's annual Christmas party, Jenner was still dark-haired at the time but has since seen the light and followed in Kim's lighter-haired footsteps.
Kylie Jenner is no stranger no hiding her dark hair as well, her blonde wigs are actually some of the more natural looks she's worn.
This dirty blonde look from 2015 was fierce.
Khloe Kardashian is the longest reigning blonde of the family, however, and has been sporting her dyed hair for a few years now.
Long and wavy or short and straight, Khloe has set the tone for the rest of the family when it comes to their lighter hair colors.
As it goes with anything and everything that the Kar-Jenners do, Twitter had things to say about Kris Jenner's new style.
"YAAAAAS KRIS! WERK THAT BLONDE 🔥." Preach!
"Kris Jenner with the blonde hair >> definitely here for it." Keep up the good work, Kris!
"@KrisJenner looks amazing with blonde hair 😍." Heart eyes indeed.
"Kris Jenner is a total ice queen with her new blonde hair." Ice, ice, baby.
"With Kris Jenner's new platinum blonde hair she looks like Kims twin [not gonna lie]." Looks like I wasn't the only person to notice the resemblance. But I think we can all agree that there is nothing wrong with looking like Kim Kardashian.