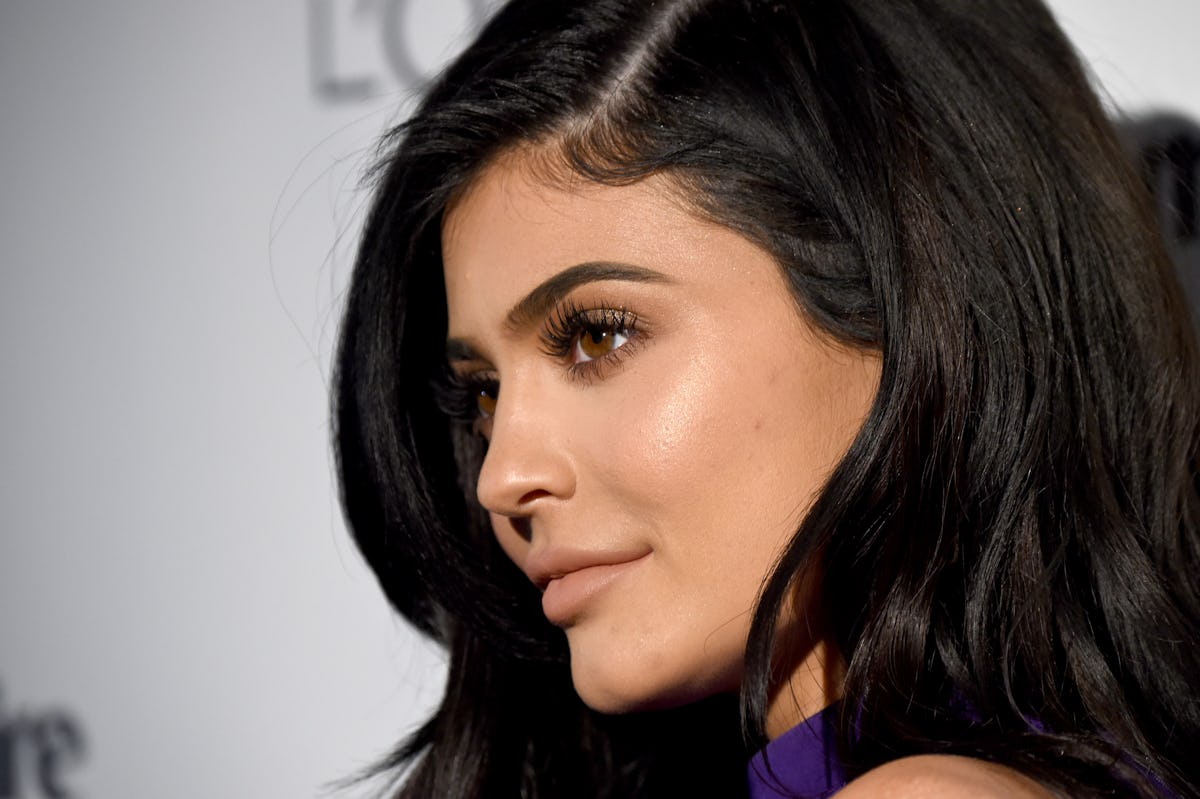 Here's How Far The Kardashians Will Go To Protect Kylie Jenner's Privacy Amid Baby Rumors
Frazer Harrison/Getty Images Entertainment/Getty Images
2017 has been a... sh*tshow. In the mix of everything, rumors were spilled that Kylie Jenner is reportedly pregnant. Being a member of the iconic Kardashian-Jenner family, Kylie has fallen victim to an uncountable amount of rumors. However, the reported pregnancy news has stuck and is getting pretty hard to deny at this point. The news hasn't been confirmed by Jenner or any of her family members. The steps the Kardashians have taken to protect Kylie's privacy are extraneous, and they don't seem like they plan on cracking any time soon.
Back on Friday, Sept. 22, it was revealed that Jenner was reportedly pregnant with rapper Travis Scott's baby. Other details, including that Jenner is reportedly expecting a girl in February, have also surfaced. Unfortunately, nothing (I REPEAT: NOTHING) has been confirmed by Jenner or any member of the family. In fact, the opposite has occurred. It seems that every Kardashian-Jenner is working overtime to guard Jenner's privacy.
It seems like each week something happens that could expose the truth about Jenner's reported pregnancy, but it gets shut down by one of the family members. Stop truth-blocking us, Kardashians. Below are seven of the biggest rumor blocks done by America's first family.
1. Kris Jenner's vague text message to Ryan Seacrest.
On Monday, Sept. 25, Kelly Ripa and Ryan Seacrest hit the ground running to get the scoop on the reported pregnancy during Live With Kelly and Ryan. While on air, Seacrest and Ripa were glued to Seacrest's phone while they texted Kris Jenner.
After the text message bubbles appeared and disappeared and reappeared (how annoying is that?), Kris finally responded. Seacrest glumly told viewers,
Kris says Kylie's not confirming anything. That's the news from the family this morning. Kylie is not confirming anything.
Womp, womp.
2. Kim revealed she will "speak about herself" to Ellen DeGeneres.
Kim dished about a lot of things on The Ellen DeGeneres Show — the family group chat, the gender of her third baby via surrogate, and an update on North. She was not eager to talk about anything related to her sister's reported pregnancy. Kim shut down any questions quickly by explaining she was threatened within an inch of her life on the family's group chat. Kim said,
I'm going to break it down... This is how we work in the family. When there are lots of rumors, we have this family group chat and we threaten each other's lives if we speak for the other one. For the safety of my life...
She continued,
We just decided there's so much that goes on that we respect each other's right to speak for themselves, so I will speak about myself. Hopefully, they can come on and address whatever rumors you might have.
A little dramatic, but whatevs.
3. Jordyn Woods posts ho-hum Halloween pictures.
Halloween is basically second to the Met Gala for Kylie Jenner. Her costumes are always next-level, and she's never afraid to show a little skin. However, this year, Jenner kept it low-key. She spent actual Halloween day with her mom, Kris Jenner. It looked like a... raging time. The two cozied up in oversized sweaters and ate puppy chow. Woo-hoo.
Jenner did dress up for a party with her BFF Jordyn Woods. The two embraced their angel and devil alter-egos for an epic costume combo.
Here's the catch — no full-length pictures were posted. You know that's a good friend when she looked cute AF and doesn't post any full body photos.
4. Kylie Jenner exposes the paparazzi for photoshopping.
Jenner isn't afraid to block a few rumors herself. Even though she has remained suspiciously quiet during the past few months, Jenner did squash some photos that allegedly showed her with a baby bump. The weirdest thing — the photos in question have actually been banned from Twitter, but you can still see them here.
On Nov. 5, Jenner retweeted the pictures and said,
First of all if you're going to photoshop my photos blogs/paps!! Check for the crooked lines in the background.2nd photo is clearly altered
Well, if you're going to break an awkwardly noticeable social media silence, you might as well say something good.
5. Kim drank a sardine shake instead of spilling the tea.
Kim joined James Corden on The Late Show to play "Spill Your Guts Or Fill Your Guts." Corden asked the starlet, "Kim, there have been lots of rumors about your sisters, Khloé and Kylie, being pregnant. Are they true, yes or no?"
Kim thought about it for a looooooong time, and then opted to "fill her guts." Kim literally drank a sardine shake to protect her sisters. That's dedication — I think we all need a Kim K in our life.
6. Kylie is completely missing from the Kardashian-Jenner Christmas card.
I seriously can't quite wrap my brain around this one. It's just so obvious. For their annual holiday card, the Kardashian-Jenner family tried something new and released a different photo for the 25 days leading up to Christmas. Each day, a new piece of the photo was shown. All the ladies in the family and their children were featured, except Jenner.
You're really going to play us like that, fam?
7. Kendall photographed Kylie's face for Love Magazine.
Jenner didn't completely leave us hanging for the holidays. She posted a cheerful photo of her cover for Love Magazine that happened to be photographed by her sister, Kendall. Jenner is rocking a bulky red turtleneck, her signature red lip, and minimal makeup. Obviously, she looks gorgeous. However, the close-up photo is screaming, "I'm hiding something." Nice try, Kenny and Ky.
Obviously, we can't know for sure if the reported pregnancy news is true until it comes from Jenner herself. Lately, it seems like the Kardashians are working extremely hard to keep things tight-lipped and it's hella suspicious.
Check out the entire Gen Why series and other videos on Facebook and the Bustle app across Apple TV, Roku, and Amazon Fire TV.