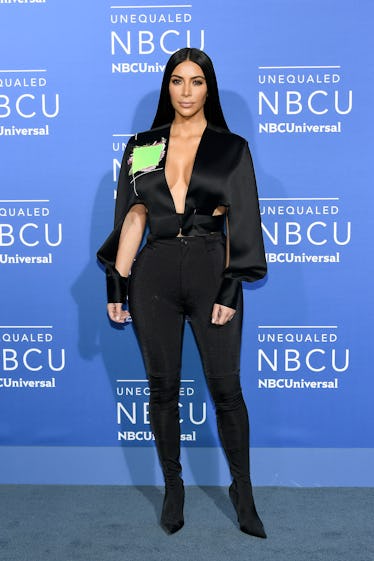 Kim K Finally Explains Why No Pregnancy Rumor Has Been Addressed: "I Speak For Myself"
Dia Dipasupil/Getty Images Entertainment/Getty Images
Truthfully, I don't care either way if the rumored pregnancies of Khloé Kardashian and Kylie Jenner are true. I would be super excited if they were, but also not surprised if the reports were false. What I do care about is the fact that no one in the Kardashian-Jenner clan has said ANYTHING about the reported pregnancies. Give me a breadcrumb — any snippet of info would be helpful. Kim's latest talk show appearance did give some answers. Are Khloé Kardashian and Kylie Jenner really pregnant? OF COURSE WE STILL DON'T KNOW. However, Kim K did reveal why the family has been so hush-hush.
The hardest part about all these pregnancy rumors has been the weird and unexplained silence from all family members. As it turns out, the silence has been on purpose, according to Kim Kardashian. The contour queen went on Ellen and spilled some tea about the family group chat. She said,
I'm going to break it down... This is how we work in the family. When there are lots of rumors, we have this family group chat and we threaten each other's lives if we speak for the other one. For the safety of my life...
Could you imagine Kylie coming at you for spreading rumors? Truly terrifying. Kim continued,
We just decided there's so much that goes on that we respect each other's right to speak for themselves, so I will speak about myself. Hopefully, they can come on and address whatever rumors you might have.
Hmmm... very interesting. The Kardashian family has been in the spotlight for an extremely long time, and they really are total professionals at handling this kind of stuff. Kim has proven one thing — don't believe any pregnancy rumors until you hear it directly from the Kardashian-Jenner's mouth.
Speaking of babies, Kim shared some very exciting surrogate news on the talk show. TBH, Nov. 15 was the biggest day of certified-true Kardashian info in a long time.
Straight from Ms. Kardashian-West, the third child of Kim and Kanye will be a girl. Although that sentence seemed matter-of-fact, I'M SO FREAKING EXCITED.
Kim divulged the news as a surprise to... basically everyone, including DeGeneres. While talking about her glamorous cherry blossom-themed baby shower, Kim told an adorable story about North trying to sneak a few toys. Kim said,
My daughter, she's really tricky. We had a baby shower over the weekend, and I thought: 'I really do want a baby shower because I want her to feel that something's coming, and I really want her to understand.' People brought toys and gifts [to the shower], and we were opening them all up the next day and North said, 'Mom, since baby sister's not here, I think I need all of her toys in my room and I'll play with them and just make sure they're OK for baby sister.'
As Kim was wrapping up the story, there were a few strange reactions. I swear, you can hear the audience sort of half-gasp and half-laugh. DeGeneres just kind of looked wide-eyed and said, "She's a toy tester, and you just told us it's a girl!"
As far as the anticipation for a new sibling, Kim assured DeGeneres that North is getting eager. Kim revealed,
North is really excited about [having a sister]. [Having] a brother was a little trickier. Now, she's so excited. Let's see if it lasts. I've had to explain to her: 'OK, 4 in the morning when you come into my room, I have to be with baby sister. I have to feed her.'
I cannot wait for another Kardashian-West baby to grace my life. Will she wear hand-me-down clothes from North? Will she actually be the newest style icon? WHAT WILL HER NAME BE? Truly, so much to look forward to.
Although Kim didn't reveal the truth about Kylie and Khloé's rumored pregnancies, she did drop some very exciting news about her own family. Kardashian-West baby watch starts... NOW.
Check out the entire Gen Why series and other videos on Facebook and the Bustle app across Apple TV, Roku, and Amazon Fire TV.