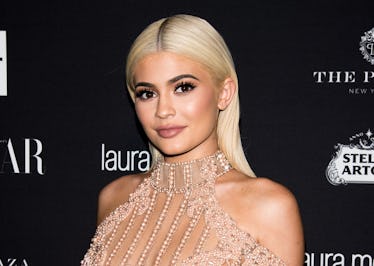 Kylie Jenner Reportedly Had Her Baby Shower A Day After Kim K & Fans Are So Confused
You might have seen all of Kim Kardashian's baby shower Snapchats earlier this weekend, but Kim K's baby shower apparently wasn't the only shower the family hosted. Nope, according to People, Kylie Jenner reportedly had a baby shower the day after Kim Kardashian, and it was a small, private event held at Jenner's house and kept completely off social media. Although Jenner has yet to confirm her reported pregnancy, a source told People Kylie Jenner's baby shower had been planned for a while and Kardashian's was planned a little more on-the-spot with invitations being sent out just days before the shower on Saturday, Nov. 11.
Khloé Kardashian and Kylie Jenner were both at Kim Kardashian's baby shower, as well as Kris Jenner, Kendall Jenner, Chrissy Teigen and others, according to the source. Khloé Kardashian has yet to confirm her reported pregnancy as well, but she posted photos from Kim's shower on her Instagram. If she is indeed pregnant, she hid her baby bump extremely well in the photos she posted online. Kim K heavily documented her shower on her Snapchat story, and her house was decorated with cherry blossoms from top to bottom because Kim and Kanye are experts at decorating their home with flowers for special events.
Seriously, just look how stunning these cherry blossoms look!
The source told People Jenner arrived at Kim K's baby shower covering her reported baby bump with a jacket. Jenner's baby shower the next day reportedly was a pajama-themed party, so that's freaking amazing. Why can't every party on earth be a pajama-themed party? I'm sick of wearing pants! I just want to wear flannel and slippers for the rest of my life, OK?! Anyway, Jenner took a page from her big sister Kim's book by having a PJ party for her baby shower.
Back when Kardashian was pregnant with her son, Saint, she had a PJ-themed baby shower and it was star-studded, naturally.
Kim Kardashian is the only one of the Kardashian/Jenner family to confirm she is expecting a baby with husband Kanye West. She confirmed in September that she and West are expecting their third child (reportedly via surrogate), and the baby is reportedly a girl. According to People, Kardashian and West's surrogate was not at the baby shower on Saturday. On top of that, we still don't know if Kylie Jenner is actually pregnant or not. It seems like every day we get new clues that she is pregnant immediately followed by clues that she's not. Either way you spin it, this is confusing as hell. Fans think Jenner has been dropping hints that she and her boyfriend Travis Scott are reportedly expecting a baby girl, but Jenner herself hasn't confirmed/denied anything since the pregnancy rumors first started on Sept. 22, so this is all speculation until she reveals the truth.
Fans are scratching their heads trying to decipher all of Jenner's possible pregnancy hints.
Ellen DeGeneres recently tried to get the truth out of Kris Jenner when she appeared on her show, but Jenner wasn't budging. When Ellen asked Kris if Khloé and Kylie are pregnant, Jenner dodged the question and just talked about her daughters' various business ventures and why they're doing five more seasons of Keeping Up With The Kardashians. She said,
They all have their own businesses that they work on that they're passionate about. I think that because the show is in over 167 countries around the world, it really is a great foundation for all the other things we do. One helps the other. We recognize that, and we really appreciate the fact that we've been so blessed to be able to do this for so long. It's really an honor.
I know I should probably believe Khloé Kardashian and Kylie Jenner really are pregnant at this point, but I'm too confused to know what the truth is anymore!! One thing's for sure, Khloé freaking slayed at Kim K's baby shower.
I guess I'll just have to accept the fact that life is going to continue to be hella confusing until Kris Jenner decides it's time for all of us peasants to know the truth. Until then...