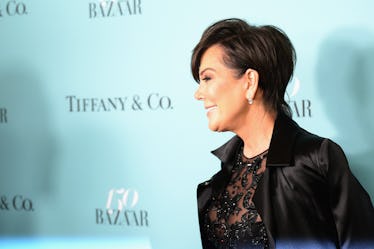 Ellen DeGeneres Grills Kris Jenner About Her Daughters' Rumored Pregnancies – VIDEO
Andrew Toth/Getty Images Entertainment/Getty Images
Ellen DeGeneres sneaks in questions to her talk show guests in such a laid-back fashion that sometimes it totally works. In the case of Kris Jenner on Ellen confirming or denying those many pregnancy rumors, however, forget about it. DeGeneres does her solid best, but Jenner manages to still keep the mystery alive.
She's a pro at this, folks, and no casual DeGeneres line of questioning is going to get her to reveal anything, try as the talk show host might.
Jenner sat down with DeGeneres, following on the heels of a recent appearance by Kendall Jenner and Kourtney Kardashian, where they denied that they were pregnant after their long-lost sister Karla (DeGeneres in her Halloween costume) gossiped about the two expecting.
That little bit was fun, but shed no light on the other reported pregnancies that have yet to be confirmed: Kylie Jenner and Khloé Kardashian. So, of course, having Jenner on her show is the perfect opportunity to get the inside scoop directly from the world's most famous momager.
Jenner noted Kendall and Kourtney's recent appearance on DeGeneres' show, saying of the talk show host's Kardashian character: "You're the best daughter, because you're so easy to get along with. You do make up a lot of stories, though. You've got to work on that. You know, the little fibs every once in a while?"
DeGeneres responded, "You mean mentioning that they were pregnant?, to which Jenner laughed, saying, "Yeah!"
The host used the opportunity to try and get the inside news on the other pregnancy rumors, saying, "They're not," referring to Kendall and Kourtney, adding, "but you have lots of pregnant children right now. You do. You have a whole bunch of them."
You didn't think Jenner would own or dismiss that, now did you? Jenner responded, talking to the audience, "Oh, I can feel where this is going. She's trying to trick me into confirming pregnancies."
Like I said, Jenner is a pro. She's never going to fall for that trick and all will be revealed when the timing is right. Unfortunately for all of us, it's totally a waiting game and that's exactly how the Kardashians/Jenners like to keep it.
That didn't stop DeGeneres from repeatedly trying to get to the bottom of the rumors, when questioning turned to the decision about continuing to film Keeping Up With the Kardashians.
Jenner explained:
They all have their own businesses that they work on that they're passionate about. I think that because the show is in over 167 countries around the world, it really is a great foundation for all the other things we do. One helps the other. We recognize that, and we really appreciate the fact that we've been so blessed to be able to do this for so long. It's really an honor.
The family, it turns out, "took a vote" before signing their new contracts, as Jenner explained, "We all agreed that we really would miss it if we weren't doing it."
She teased, "I'm excited, and you never know what's going to happen on Keeping Up With the Kardashians. Season 15 we're shooting right now, so it's really exciting."
DeGeneres noted this season is "when they announce who's pregnant — who's really pregnant."
Jenner only laughed and agreed, saying, "Yeah!" Yeah. That'll be the truth."
C'mon. Give us something.
DeGeneres also asked about Khloé recently referring to boyfriend Tristan Thompson as "daddy" on social media. Here's how Jenner explained it: "Well, you know. It's like, 'Who's your daddy?' Maybe it was more sexual. I don't know! Maybe!"
DeGeneres remarked, "That's gross coming from you. That's your daughter!," adding, "It's just easier to say, 'Yes, she's pregnant.' That's what you should just say."
I have to give DeGeneres credit for grilling Jenner and trying to uncover the truth behind all the pregnancy reports. She fought the good fight and even presented Jenner with items from her baby line, with cutouts of Kylie, Khloé, and Kim each behind a stroller. I see what you did there.
Check out the entire Gen Why series and other videos on Facebook and the Bustle app across Apple TV, Roku, and Amazon Fire TV.