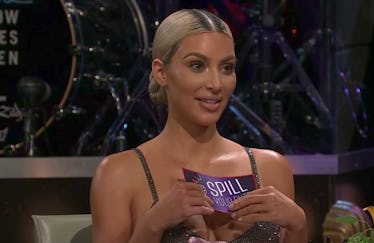 Kim K Did The Grossest Thing To Avoid Questions About Kylie Jenner's Pregnancy
Kim Kardashian is really committing to her family's rumor rule that states they won't speak for any family member other than themselves. Last night, Nov. 15, she appeared on The Late Late Show to chat with James Corden and Ludacris and also play a round of the nasty as hell "Spill Your Guts Or Fill Your Guts." The game works like this: You're asked a revealing question, and if you choose not to answer, you have to eat something disgusting like cow tongue or a scarab beetle. And the video of Kim Kardashian drinking a sardine shake will probably make you vom, so enter at your own risk.
"But Kim," you ask, "What kind of question could've been so bad that you chose to drink a glass of blended sardines instead of answering?!" A question about her reportedly pregnant sisters, that's what. Yup, Kim Kardashian literally drank a sardine smoothie to avoid answering a question asking her to confirm or deny whether or not Kylie Jenner and Khloé Kardashian are actually pregnant. Corden asked, "Kim, there have been lots of rumors about your sisters, Khloé and Kylie, being pregnant. Are they true, yes or no?" Kardashian contemplates her entire existence for a few seconds before grabbing the smoothie and downing it, and I honestly feel like I'm going to throw up every time I watch it.
Kardashian had answered every question Corden asked up until this point. His first question for the reality star was, "Kim, you have a very fashionable family. Kendall, Kylie, Kourtney, Khloé, and Kris. Rank them from best dressed to worst dressed." She easily said Kendall Jenner was the best dressed and Kris Jenner was second, but she had a hard time ranking Kourtney, Khloé, and Kylie. Eventually, her finished ranking was Kendall, Kris, Kylie, Kourtney, and then Khloé as worst dressed, and she probably accurately said Khloé is going to kill her for that one.
Corden, on the other hand, only answered one of the questions Kardashian asked, so he ended up eating a scorpion and a cow's tongue, and it was honestly worse than watching Kim K drink the sardine smoothie. The first question Corden wouldn't answer was, "Which guest on the show has been the biggest jerk?" and the second was asking him to reveal which of his two sisters is his favorite. Instead of answering, he took a massive bite out of the cow's tongue.
The only question Corden did answer was one about the Kardashian/Jenner family. When Kim asked him to name who his least favorite Kardashian/Jenner family member is, he responded, "Oh, I know! Easy. Kylie! Kylie Jenner. She pulled out of the show. She was going to come, she didn't come, f*ck her, she's the one!" That was easy.
Kim Kardashian is sticking to her family's rumor policy and not speaking for Kylie and Khloé. But an anonymous source recently told People that Kylie Jenner has been really insecure about her body throughout her reported pregnancy and is being careful about who she trusts. A source told People,
Kylie is only trusting her closest friends and her sisters right now. She wants to reveal things on her own terms but she's of course having fun teasing everyone. She knows all the attention is on her and her baby bump, but she won't share until she wants to.
Uh, yeah, Kylie, we know you're having fun teasing us. Don't think we don't notice all of the subtle clues you drop! We literally have no idea what they're supposed to mean, but we spend way too much time trying to decipher them anyway! According to People, Travis Scott has been over the moon throughout this reported pregnancy. A source close to Scott told the outlet,
Travis is so excited about the baby. They're both trying to enjoy this time for themselves and keep it private as long as they can. They know it's going to be a frenzy when they do come out. Travis is crazy about Kylie and he feels so lucky to have her and the baby. The family has been welcoming — they know how important it is to Kylie that everyone gets along.
A source told People that Jenner has been struggling with the fact that her body has been changing through this reported pregnancy. They said, "Her body is changing and she's very self-conscious about it. She's always been insecure that she's not as curvy or pretty as her sisters."
But they added that Scott has been very supportive throughout it all, saying, "Kylie and Travis are very happy together. They spend time away from the spotlight and he's been supportive." Of course, we can't even know if all of this is true because Kylie still hasn't confirmed anything! Can you tell I'm stressed? 'Cause trust me, I'm stressed.