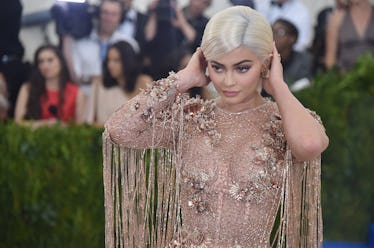 Kylie Jenner Might've Hinted At Her Pregnancy On Thanksgiving & Fans Are Freaking Out
Theo Wargo/Getty Images Entertainment/Getty Images
King Kylie is certainly having a fun time keeping fans guessing about her alleged baby bump. The 20-year-old loves posting cryptic hints on social media, and now, her festive holiday snaps might've given fans the confirmation they were looking for. People are beginning to wonder, "Did Kylie Jenner hint at her pregnancy on Thanksgiving?"
Update: On Sunday, Feb. 4, Kylie Jenner confirmed her pregnancy in an Instagram post. She welcomed a daughter on Thursday, Feb. 1.
Earlier: The reality starlet and makeup connoisseur is certainly no stranger to extravagant affairs. She decided to host her Thanksgiving celebration in a decadent fashion complete with all-things pink and what appear to be pregnant rice cake turkey desserts. Coincidence?
Though most people are inclined to opt for red, orange, and yellow during Thanksgiving, Jenner used the holiday as a time to turn her home into a blush pink paradise, which she shares with fans on Snapchat. Jenner had modern-looking pink chairs, pink paintings with hearts and butterflies, and white florals as a centerpiece. Without question, it's décor a little lady would absolutely adore. This certainly isn't the only time Jenner has gotten pretty in pink. She also used her Kylie Cosmetics holiday shoot as a time to get into the spirit of things with pink (though Christmas colors are obviously red and green).
But the pink isn't what threw fans for a loop — it's the desserts. Jenner had chocolate-covered rice cakes with candy corns to appear like turkeys. That's all fine and dandy, but one had a what appeared to be a chocolate baby bump. Well, well, well, isn't that interesting?
Naturally, no one has confirmed or denied what this all means. Perhaps the preggo turkey rice cake was for third-time mama Kim Kardashian? Or perhaps it was for new mama Khloé Kardashian? Until fans find out for certain, chances are they're going to assume it was meant for Miss Jenner.
Earlier this week, the youngest Kardashian-Jenner sister decided to ring in Thanksgiving with a brief memo acknowledging all she has to be grateful for. She shared what she's thankful for on her Kylie app, and naturally, it was as mysterious as you'd imagine. Jenner began her reflection by saying,
I have SO many things to be grateful for this year! I know I'm one lucky girl. With Thanksgiving coming up this week, I'm reflecting on it all and anticipating everything next year will bring.
Oh, next year, huh? What exactly is coming next year? A tiny tot? Of course, Jenner — who really knows how to toy with people's emotions — made a note about loving her "babies." Gasp! But before you break out into a sweat, the youngster means her fur babies. She said,
They may drive me crazy sometimes, but Normie, Bambi, Harlie, and Rosie…I love you!!!
For all those who are curious about her latest social media teases, Jenner apparently won't confirm anything until she's ready. Get ready for a lengthy waiting process, if that's the case. A source close to the family told People,
Kylie wants to disappear and be out of the spotlight and focus on her health and happiness. Kylie isn't going to publicly address her pregnancy until she gives birth. She's not doing any public appearances and just wanted to take six months off. Kylie is only trusting her closest friends and her sisters right now. She wants to reveal things on her own terms but she's, of course, having fun teasing everyone. She knows all the attention is on her and her baby bump, but she won't share until she wants to.
So it looks like everyone's in for a whirlwind of coy snap stories and mysterious captions. We're waiting, Ms. Jenner.
Check out the entire Gen Why series and other videos on Facebook and the Bustle app across Apple TV, Roku, and Amazon Fire TV.