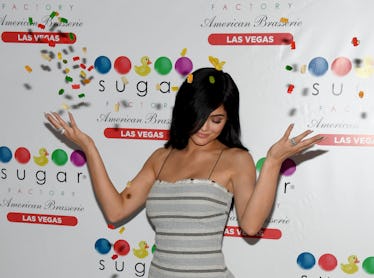 Fans Are Wondering If Kylie Jenner Is Pregnant With Twins & Here's Why
Ethan Miller/Getty Images Entertainment/Getty Images
If anyone has the power to dominate headlines and stop people in their tracks, you better believe it's a member of the Kardashian-Jenner clan, particularly King Kylie. The family's youngest reality starlet has fans wrapped around her 20-year-old finger as she continually teases pregnancy rumors without actually confirming or denying them. The latest question to cross fans' minds: "Is Kylie Jenner having twins?"
Elite Daily has reached out to Jenner's reps for confirmation, but did not hear back at the time of publication. Originally, fans wondered whether or not there's even a bun in the oven, but now, some are convinced two tiny tots are on the way for the cosmetic queen. Speculation rose after Kylie Cosmetics posted a photo on Instagram of the youngster donned in the line's holiday collection. Commenters suggested her face in the head shot says it all. Naturally, if you're in need of hard-hitting evidence, Instagram comments are the perfect confirmation for the most daunting mysteries. As Mama Kris would say, "This is a case for the FBI."
One of the comments that sparked the twin debate was, "She can hide her belly but she can't hide her face this girl is pregnant with twins smhhhh." Honestly, I'm surprised it took this long for the twin debate to arise, considering every other possible scenario has been brought to our attention. Fans have been neurotically following Jenner's social media since the world stopped spinning the day the pregnancy rumors circulated (Sept. 22, if you were wondering).
Since the autumnal equinox, Jenner has been one coy social media queen.
People were convinced she was expecting a baby boy after a Snapchat post where she was tossed between a blue and a pink iPhone case. "Which one? I'm thinking blue," she wrote. Of course, chaos ensued.
There were times when fans were convinced she was having a little girl.
Jenner's pretty in pink Snapchat posts weeks later had everyone wondering whether or not another lady would soon be making her way into the Kardashian-Jenner circle. Pink nails, pink birthday cake, pink holiday decorations — you know how to keep your followers on their toes, Ms. Jenner.
Now, given that the blue and pink photos have made the rounds, I would've gone ahead and assumed that someone would've said she is having a boy and a girl a lot sooner. But hey: One conspiracy theory at a time, right? Have a gander at the picture that sparked the twin debate for yourself.
Personally, I don't think this picture is telling at all. I can't figure out whether or not she is pregnant, having a boy, girl, both, a unicorn, etc. The only thing I thought when I first saw this photo was, "Kim?" Don't let the reality tv gods scold me for such a silly question.
It's definitely a struggle to keep up with the latest happenings in the world of Ms. Kylie Jenner. A few weeks ago, the celeb chimed in to comment on an alleged photoshopped picture from the Daily Mail, one that supposedly altered her appearance to look pregnant. She wrote in a tweet, confusing everyone:
First of all if you're going to photoshop my photos blogs/paps!! Check for the crooked lines in the background.2nd photo is clearly altered
But now, we're back to square one, as an insider just revealed to People that Jenner is supposedly self-conscious about her pregnancy body. The source said,
Her body is changing and she's very self-conscious about it. She's always been insecure that she's not as curvy or pretty as her sisters.
Annddd it looks like we're back to "Is she or isn't she?" wouldn't you say? Will we get a Christmas miracle by way of a pregnancy confirmation? Time will tell.
Check out the entire Gen Why series and other videos on Facebook and the Bustle app across Apple TV, Roku, and Amazon Fire TV.