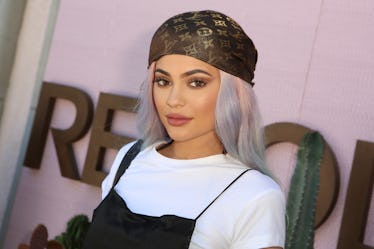 Kylie Jenner's Fans Think This Tiny Detail On Snapchat Could Mean She's Having A Boy
Ever since Kylie Jenner's reported pregnancy came to light in September, it seems like fans have been spending every day trying to figure out if the rumors are true. No one from the Kardashian/Jenner family has denied the rumors, but they also haven't confirmed them, so it's tough to know what to believe. But now, fans think Kylie Jenner just revealed the sex of her reported baby in a cryptic Snapchat on Monday, Oct. 9. Because of this Snap, people are wondering: Is Kylie Jenner having a boy? Well, if she actually is pregnant, then this Snapchat definitely seems to be adding fuel to that fire.
The picture Jenner posted on her public Snapchat account (called King Kylie) shows three phone cases from The Kylie Shop. Two of the cases are transparent and one is pink and white. The transparent phone cases have Kylie's signature lips that are featured on the packaging of her lip kits and a lot of her other products. But what you need to pay attention to here is the color that's dripping over the top of the lips on each case. One case has blue-covered lips, and the other has pink-covered lips. Jenner's caption on the snap is what has fans convinced that she's hinting at the sex of her reported baby.
The caption says, "Which one? I'm thinking blue," with a blue heart emoji.
If Kylie Jenner had already confirmed that she was pregnant with Travis Scott's baby like the rumors say, I would take this as a big hint that she and Scott are expecting a boy. Since she hasn't confirmed anything, however, it's best to take this with a grain of salt. For all we know, she could be messing with us and just going along with the rumors to drive us crazy. Hell, if people thought I was pregnant and I knew I wasn't, I'd probably play some practical jokes for a little while too just to entertain myself.
But honestly, something tells me all of these Kardashian/Jenner pregnancy rumors are true. Kim Kardashian already confirmed she and Kanye West are expecting another baby in a Keeping Up With The Kardashians trailer. Khloé Kardashian has yet to confirm her reported pregnancy, but based on recent photos of the star that seem to show a baby bump, fans believe the rumors are true. Khloé recently shot down those baby bump claims, however. The photos in question were from a recent photo shoot she did that, according to fans, seemed to show a baby bump. Fans started commenting about it on her Instagram, and Khloé took to the comments section herself to shut them down. She said,
This is a peplum shirt. It flairs out at the bottom. It's just the way the shirt is designed. In some of the next pictures coming up from the SAME shoot, I'm in a crop top. Showing a lot of skin...
So if Khloé Kardashian is pregnant with her first child with Tristan Thompson, she's not ready to talk about it yet. But that's not stopping Jenner from being cryptic AF on her Snapchat story! Nope, Jenner also hinted that she and her sisters each have a bun in the oven by... posting a picture of literal buns going into a literal oven. Subtle, King Kylie.
Fans think this photo of three cinnamon rolls on Jenner's Snapchat is the reality star confirming that she, Khloé, and Kim all have babies on the way.
If Jenner is indeed pregnant, then these Snapchats could mean a lot of things. But until they confirm it themselves, fans will just have to be OK with the fact that all of their (admittedly kind of valid) conspiracy theories could be completely incorrect.