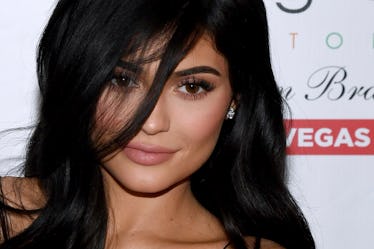 Kylie Jenner Is Reportedly "Very Self-Conscious" About Her Body Changing During Pregnancy
Ethan Miller/Getty Images Entertainment/Getty Images
We've all heard the rumors. We've all read the headlines. We've all seen every Kardashian and Jenner family member dodge the questions like the plague. Kylie's gotta be pregnant ya'll, even if she hasn't confirmed it yet. There's just too much evidence! Too much evidence, I say! Now, new reports are saying Kylie Jenner's pregnancy is making her feel self-conscious because (shocker!) her body is changing like woah.
News first broke at the end of September that Kylie Jenner is reportedly expecting her first child with boyfriend Travis Scott. Since then, fans have been waiting to see a baby bump or hear the official news straight from her Kylie Lip Kit mouth.
Instead, we've received jack sh*t besides lots and lots of photos from the neck up on Instagram, and one weird comment from Kris Jenner.
When news first broke, a source told People magazine,
They [Kylie and Travis] started telling friends a few weeks ago. The family has known for quite some time. She is really excited and so is Travis.
Looks like not much has changed there.
According to reports, Jenner is still only letting a few select people close to her know about her pregnancy, and right now she is definitely feeling the growing pains of a growing family.
Another insider told People,
Her body is changing and she's very self-conscious about it. She's always been insecure that she's not as curvy or pretty as her sisters.
The source added that Jenner reportedly knows everyone is watching her closely, and while she's enjoying messing with the public, she's still only comfortable talking about her baby with her inner circle. The insider said,
Kylie is only trusting her closest friends and her sisters right now. She wants to reveal things on her own terms but she's of course having fun teasing everyone. She knows all the attention is on her and her baby bump, but she won't share until she wants to.
Luckily, Scott has her back. Multiple sources have confirmed he is totally in love with Kylie, and her family has been very welcoming of him.
The insider continued,
Travis is crazy about Kylie and he feels so lucky to have her and the baby. The family has been welcoming — they know how important it is to Kylie that everyone gets along.
Reportedly, Jenner and Scott can expect their baby girl (!!!) to arrive in February 2018, right around the same time big sister Khloé Kardashian is reportedly expecting her first baby with boyfriend Tristan Thompson.
Khloé has been much more open about having her body photographed during all of the pregnancy rumors, though fans can't tell if she actually has a baby bump.
For example, she recently posted a series of photos on Instagram wearing a blue dress at sister Kim Kardashian's baby shower, and fans aren't sure if she's hiding a bump underneath the busy pattern or not.
For Kylie, it's been a much more private process.
Reportedly, she threw her own low-key baby shower the day after Kim's extravaganza at her home in Hidden Hills, and kept it entirely off social media. According to People, Kylie's baby shower was actually planned for a while, and it was Kim's party that was thrown together last minute.
An insider said,
It [Kim's shower] was a last-minute baby shower. Guests received an invitation earlier this week. It was a low-key celebration with family and close friends.
Honestly, it doesn't even matter who celebrates first. Kim, Khloé, and Kylie, I am just so happy for all of you (if the rumors are true!) and send good vibes your way.
Check out the entire Gen Why series and other videos on Facebook and the Bustle app across Apple TV, Roku, and Amazon Fire TV.