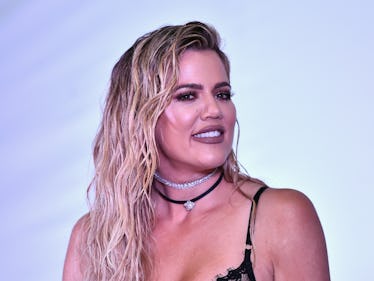 4 Clues On Khloé Kardashian's Instagram That Will Convince You She's Actually Pregnant
Alberto E. Rodriguez/Getty Images Entertainment/Getty Images
It's hard to know what's real and what is just a perfectly crafted PR stunt by Kardashian-mastermind Kris Jenner. Take Khloé's reported pregnancy for example. By now, you've surely heard that Koko and her sister Kylie are rumored to be pregnant with their first children at the same time, and eagle-eyed fans have zeroed in on their social media feeds looking for clues and baby bumps like they're getting paid for it. There are few clues on Instagram that Khloé Kardashian is pregnant for real, and we're here to take a closer look.
UPDATE: On Dec. 20, Khloé Kardashian confirmed that she is expecting a baby with Tristan Thompson in an Instagram post.
EARLIER: The news first began circulating late September 2017 when Khloé's reported pregnancy hit the public almost immediately after her little sister Kylie's. We know that Khloé has always wanted to be a mother due to how vocal she's been in that past on Keeping Up With The Kardashians, even visiting a fertility doctor on one episode.
According to People magazine, Khloé is due in February, which would make her roughly five months pregnant at this time. That is primetime for a baby bump to start making its debut.
For those who have been keeping a close eye on Khloé's feed, here are a few pics that might prove she's definitely hiding SOMETHING.
1. Her Clothing Choices
In this three part Instagram series, take a look at pic number two. The way her loose-fitting robe is gliding over her midsection has fans shouting "BUMP!" It's also a different kind of outfit when compared to the formfitting, curve-hugging outfits we're used to seeing Khloé in.
Sure, sure, the suspect photo could just be literally anything else (re: not a perfect glam shot of her full body like we're used to) but it does look suspicious, especially if she knows we are keeping our eyes out for things like this.
2. Her Sisters Block Her Body
I mean, let's be real. Khloé isn't the type to hide behind her sisters, and this photo basically shouts, "YOU GUYS, GET IN FRONT!"
It is totally suspicious that Kourtney and Kim are specifically positioned in front of Khloé's midsection. She is also dressed in head to toe black, in what looks like super flowing material, perfect for hiding a little bun in the oven.
3. This Twinning Photo With Kylie
Besides the fact Khloé and Kylie look like identical twins here, Khloé KNOWS we're all comparing them right now, thanks to their simultaneous pregnancy rumors.
This pic feels like a big ol' *wink* to fans, suggesting that something specific is uniting her with her sister right now. Ya know, like being pregnant at the same time or whatever.
4. Kim's "The 3 of us" Tease
Kim has already confirmed she and husband Kanye West are expecting a third child, reportedly via surrogate. So why go out of her way to share a pic with her two reportedly pregnant sisters — especially with the caption "The 3 of us..." — when there are actually five sisters in total, and the two without rumored babies are left out? HUH? RIDDLE ME THAT, KIM!
It's probably because everyone in this photo is having a baby. Obvi.
Sure, it's possible Khloé's not pregnant and this is just an extreme rumor that has spun out of control, but at the end of the day, no one has denied sh*t. If I was momager Kris Jenner and my number one deal was to protect the empire I created and my children's reputations, I'd probably have said something by now if it wasn't true.
Then again, guess that's why I'm not a multimillionaire mogul. Hm...
Check out the entire Gen Why series and other videos on Facebook and the Bustle app across Apple TV, Roku, and Amazon Fire TV.