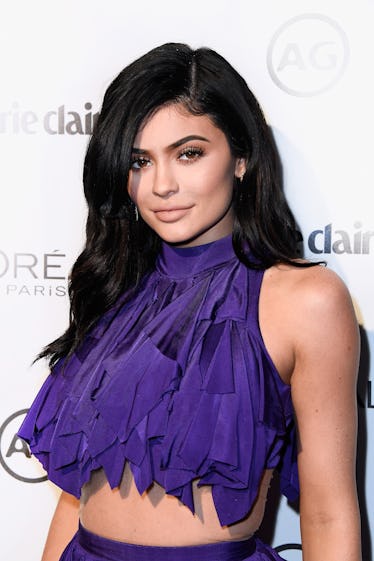 Here's When Kylie Jenner Is Reportedly Planning To Confirm Her Pregnancy
Frazer Harrison/Getty Images Entertainment/Getty Images
OK, there has been a lot of jokes floating around about Kylie Jenner's reported pregnancy. People are saying the public won't know if the reports are for sure true until we see a picture of the new baby on Instagram. Well, don't laugh too hard because this could actually be true. According to recent reports, Kylie Jenner is waiting until birth to confirm pregnancy. Honestly, do the Kardashian-Jenner's control the entire world? I know they at least control most of my social media feed.
The idea of Kylie not confirming her reported pregnancy until the baby arrives sounds crazy, but it's actually not that surprising. While it seems that she would be holding off on confirming the news simply to torture us — it has to do more with her health and happiness. A source close to the family told People,
Kylie wants to disappear and be out of the spotlight and focus on her health and happiness.
I can understand this. Watching videos of the Kardashian-Jenner's trying to do basically anything surrounded by paparazzi literally gives me anxiety. Imagine being harassed by photographers and worrying about your growing baby bump — not cool. The source claims that Kylie will not even speak about the reported pregnancy publicly until after the baby arrives.
Kylie isn't going to publicly address her pregnancy until she gives birth. She's not doing any public appearances and just wanted to take six months off.
If you're wondering if all of Kylie's Snapchats about buns in the oven and pink versus blue phone case debates are intentional — they are.
Kylie is only trusting her closest friends and her sisters right now. She wants to reveal things on her own terms but she's, of course, having fun teasing everyone. She knows all the attention is on her and her baby bump, but she won't share until she wants to.
Kylie is reportedly due in February and sources claim she is having a girl with her rapper boyfriend, Travis Scott. She has been suspiciously out of the spotlight for the past few months. Even her sister, Khloé, called her the "new Rob."
Her once skin-baring social media pictures have been replaced with a lot of promotion for Kylie Cosmetics. If she does make an appearance on Snapchat it's usually from the neck up in a loose sweater or giant jacket. My question is — isn't she too hot dressing like that in Los Angeles?
What has Kylie been doing during her new found reclusiveness? She's been taking over the cosmetics world. The mogul opened seven Kylie Cosmetic pop-up shops at various TopShop stores around the country.
The stores will be open from Nov. 20 until Dec. 20. The cities that have been gifted the pop-ups are:
Chicago: 830 Michigan Avenue, Illinois, USA 60611
Los Angeles: The Grove, 189 The Grove Drive, California, USA 90036
Las Vegas: Fashion Show Mall, 3200 Las Vegas Boulevard South, Nevada, USA 89109
New York: 609 Fifth Avenue, New York City, USA 10020
Houston: The Galleria Shopping Mall, Unit B3872/B2882, Texas, USA 77056
Atlanta: Lenox Square Shopping Mall, Unit 2012 A, Georgia, USA 30326
Miami: Aventura Mall, 19575 Biscayne Boulevard, Florida, USA 33180
Besides expanding the physical footprint of her business, Kylie has also produced tons of new holiday products that she dropped on Nov. 22. The collection features two new eyeshadow palettes and a bunch of new lip colors. They're all properly named things like "Naughty" and "Nice" — very Kylie and very cute.
As low-key as she is, we may not know about Kylie's reported pregnancy until there is literally a new baby in the family. Whether these reports are true or false — Kylie doesn't seem to be slowing down with her makeup empire any time soon. Until it comes directly from Kylie's mouth, we can't assume anything to be true or false. Oh Kylie, you really love to torture us.
Check out the entire Gen Why series and other videos on Facebook and the Bustle app across Apple TV, Roku, and Amazon Fire TV.