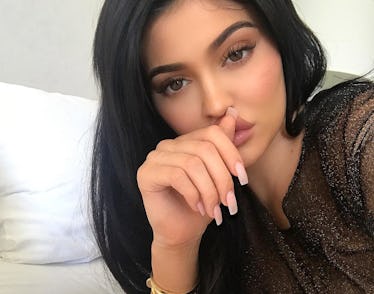 A Photo Of Kylie Jenner From The Kardashian Christmas Party Has Finally Surfaced
Merry Christmas and a happy new year from definitely not Kylie Jenner. Fans across the universe have been keeping their eyes on the Kardashian Christmas card series in hopes of catching a glimpse of the reportedly pregnant sister. Alas, truly no avail. After there was still no sign of her on Christmas Day, a photo of Kylie Jenner at the Kardashian Christmas party has finally surfaced, and it's just as anti-climatic as ever. Sure, she's alive. But where is that baby bump?
It was a massive disappointment when day 25 of the Christmas photo series arrived on Kim Kardashian's social media, and all of the women in the family were hanging out without Kylie. Of course, the public unanimously agreed (even if we didn't outwardly discuss it) that a pregnant Jenner must be the grand finale, especially after being so obviously left out of the first 24 photos. Instead, Christmas Day came and went with another group photo of Jenner's sisters, mother, grandmother, nieces, and nephews, and no sign of the makeup mogul anywhere.
Kylie, literally WTF gives?
Even sister Khloé, who has since confirmed her own pregnancy, was included. Plus model Kendall, who is usually MIA from lots of family things, is sprawled out in front of the Christmas tree.
SO, WHERE IS KYLIE?
Here's the photo from day 25.
Annnnd here's what Kylie shared on her Instagram that day.
Well, that's definitely not a pregnancy announcement. In fact, it could almost be a photo of anyone. The woman in that picture looks like a hybrid of all the Kardashian/Jenner women combined.
With so little for her fans to hang onto, some of us did breathe a sigh of relief when signs of Kylie appeared at her family's Christmas party.
Pregnant and out-about-it sister Khloé snapped some black and white photo booth pics hanging out with Jenner. In the images, both sisters are only visible from the waist up, and Jenner is giving us her classic head tilt and no-teeth smile.
If we find out this woman isn't pregnant, I will eat my TV.
However, sources have previously claimed Jenner's big plan is to remain hidden until the delivery of her reported baby. One insider told People magazine,
Kylie wants to disappear and be out of the spotlight and focus on her health and happiness.
Kylie isn't going to publicly address her pregnancy until she gives birth. She's not doing any public appearances and just wanted to take six months off.
If that's true, it's been the longest six months of my life.
Originally, it was reported that Jenner and Khloé were likely due around the same time in February 2018. However, we've since learned Khloé is actually due later in March or early April. This is thanks to confirmation straight from Kardashian's mouth on her own pregnancy announcement post.
One fan asked KoKo, "If you don't mind us asking, how many months are you?" She responded, "I'll be 6 months next week."
Holy sh*t, does this mama look amazing.
Now that the world knows about her pregnancy, Khloé is totally rocking her baby bump. She even dressed it up in sparkly fringe for the Christmas party.
Serious #goals.
As for Kylie, the world just has to hang in there a little longer. Math and science say we'll be waiting on the edge of our seats for up to nine months, and it's been at least two months since we first learned about her reported pregnancy.
Buckle up, gang. Looks like it's going to continue to be quite the Kylie Jenner ride.
Check out the entire Gen Why series and other videos on Facebook and the Bustle app across Apple TV, Roku, and Amazon Fire TV.