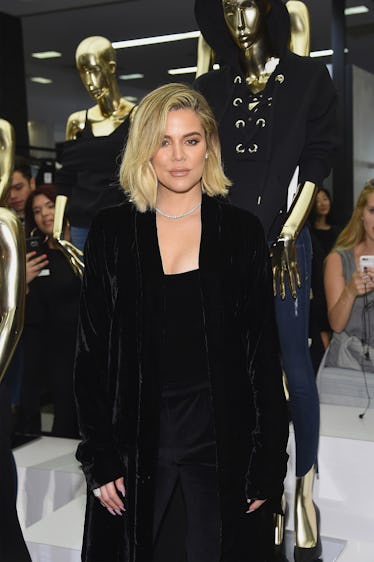 Khloe Kardashian Finally Confirmed Her Pregnancy On Instagram & We Are So Excited
Jamie McCarthy/Getty Images Entertainment/Getty Images
Well, the Kardashian/Jenner family seems to be having a bit of a baby boom, with buzz around Kylie Jenner and Khloé Kardashian reportedly expecting. The only one who has confirmed anything so far is Kim, but Khloé Kardashian confirmed her pregnancy finally and fans are so, so excited for her. Check out what Kardashian had to say on Instagram:
My greatest dream realized! We are having a baby! I had been waiting and wondering but God had a plan all along. He knew what He was doing. I simply had to trust in Him and be patient. I still at times can't believe that our love created life! Tristan, thank you for loving me the way that you do! Thank you for treating me like a Queen! Thank you for making me feel beautiful at all stages! Tristan, most of all, Thank you for making me a MOMMY!!! You have made this experience even more magical than I could have envisioned! I will never forget how wonderful you've been to me during this time! Thank you for making me so happy my love! Thank you to everyone for the love and positive vibes! I know we've been keeping this quite but we wanted to enjoy this between our family and close friends as long as we could privately. To enjoy our first precious moments just us Thank you all for understanding. I am so thankful, excited, nervous, eager, overjoyed and scared all in one! But it's the best bundle of feelings I've ever felt in my life!
On Sept. 26, various sources, including Us Weekly, reported that Kardashian and boyfriend Tristan Thompson were expecting their first child together. While neither confirmed the pregnancy buzz themselves at the time or in the days following the rumor, a producer for the company that makes Keeping Up With the Kardashians, Jeffrey Jenkins, did appear to confirm the news.
Jenkins congratulated Kardashian on his Instagram, captioning a pic of Thompson and Khloé: "Congrats my beautiful Khloe! You will be a great mom! God bless you all three! Mwah!!! @khloekardashian."
Nuh-uh. Kim Kardashian wasn't having it. At. All. Kim K took to Twitter, kicking things off with: "Let me just say this..." Yep, that got everyone's attention! She followed it up with this slam: "People who supposedly work with us 'confirming' details they know nothing about! Especially when we haven't even communicated with them SMH."
Rewinding things just a bit, in the season finale of Keeping Up With The Kardashians in June, Khloé Kardashian spoke about having a family with Thompson, telling Kim: "He wants to have kids now. He said, 'I want to have kids with you, [and] if you get pregnant, you could make maternity jeans for [your clothing line] Good American.'"
Kardashian also explained in a solo interview that they "definitely talk about starting a family," adding, "He wants to have like, five or six kids with me, and that's lovely. We could start at one and we could grow from there. But now, knowing I'm not on birth control, it's really scary. It's like a really big step."
Khloé Kardashian had a conflicted opinion about having children in the past, as she revealed, "When I was doing my fertility treatments, they were more so for Lamar. I had to stop because there was much deeper stuff that was happening in our marriage."
She added, "I knew that it wasn't the right situation to bring a child into, and I think I've done a lot of covering up for him, like, even when it made me look like I was the problem. But I was fine taking on that burden on my shoulders because he had a lot of other deeper sh*t to deal with."
Looking forward with Thompson, Kardashian shared that she had family on the mind, explaining, "I am really, really excited about my future with me and Tristan. We're doing so well, and I'm looking forward to see where all that goes."
In the wake of the rumors about Khloé's reported pregnancy in September, Thompson only responded by tweeting two sets of eye emojis. What did it all mean? Yeah, fans were looking for a little more information.
Us Weekly reported on Nov. 22 that, according to a source, a pregnancy announcement was coming from Khloé very soon. In the weeks and days leading up to the announcement, fans looked for any sign of a confirmation (or denial) they could dig up, with Kris failing to spill anything on a recent Ellen appearance and Kim preferring to drink liquefied fish on The Late Late Show with James Corden over dishing on the pregnancy rumors. That's commitment, y'all.
That didn't stop fans from trying to read into everything, however, as they combed every Kardashian/Jenner social media post and appearance for hints that would confirm or deny the Khloé baby news.
I have to hand it to the Kardashian/Jenner family... for being in the public eye, they are remarkably good at keeping secrets.
Check out the entire Gen Why series and other videos on Facebook and the Bustle app across Apple TV, Roku, and Amazon Fire TV.