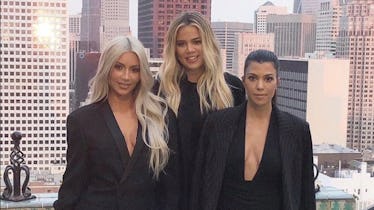 These Fan Theories About Day 25 Of The Kardashian Christmas Card Will Make You Excited AF
Kim Kardashian/Instagram
Dec. 25 is known around the world as Christmas Day, but this year, it's also known as the widely-anticipated Day 25 of the Kardashian Christmas Card. If you don't know who the Kardashians are and you don't use social media (read: nobody), you may not know that the family re-vamped their infamous Christmas card tradition into an entire month-long photo shoot. Kris Jenner, Kim Kardashian and Kourtney Kardashian have been sharing new photos of the family each day of the month on social media, and it's something fans are now looking forward to daily. At first, this idea for a Christmas card seemed pretty unthreatening (you know, besides how extremely extra it is). But with all of the baby news and rumors surrounding the family this year, fans think the final day of the Kardashian Christmas card may be a big announcement we've all been waiting for. These are the four best fan theories about Day 25 of the Kardashian Christmas card that are actually wild enough to be true.
1. Kylie Jenner Will Announce Her Pregnancy
It's the news we've all been waiting for. When reports first came out back in September that Kylie Jenner was expecting her first child, fans were gearing up for a quick shutdown of the rumor. When that didn't come, suspicions rose, and they've kept rising for THREE. WHOLE. MONTHS. Obviously, if Jenner is going to confirm her reported pregnancy, it's gotta be in a big way after all this time. Could it be on Day 25 of the card? Fans think so. And, just a quick fun fact: Jenner is the only sister we haven't seen on the card yet. Will Day 25 be her debut?
2. Kim Kardashian Will Announce The Birth Of Her Third Child
Back in June, it was reported that Kim Kardashian hired a surrogate to carry her third child with Kanye West. Kardashian then confirmed the news in a promo for Season 14 of Keeping Up With The Kardashians, and she told Ellen DeGeneres that the baby is a girl. We still, though, haven't gotten a clear due date from Kim K. She threw herself a baby shower in November, meaning the baby is definitely coming soon. Will Kim debut baby number three on the last day of the Christmas card? This would be an epic announcement, but it likely won't happen. Most recently, E! News reported on Dec. 22 that the baby is due after Christmas. So, this may not be the best case for Day 25 of the Kardashian Christmas card, but you never know!
3. Khloé Kardashian Will Show Off Her Baby Bump
On Wednesday, Dec. 20, Khloé Kardashian confirmed that she is expecting her first child with NBA boyfriend Tristan Thompson. She posted the news with an emotional post on Instagram that showed off her beautiful baby bump for the first time. We've seen Khloé K in the Christmas card already, but she doesn't seem to have any visible baby bump, as her stomach has been hidden by her niece, Dream Kardashian. It's very possible we could see Khloé with her baby bump on the last day of the card. We haven't seen Tristan Thompson on the card yet, so maybe he'll be the one to make his debut.
4. Days 1-24 Were Outtakes And 25 Just Will Be One Big Photo
Yep. Sorry to break it to everyone, but it's completely possible that Day 25 of the Kardashian Christmas card will have no huge, life-altering reveal after all. When Kim K first started posting the card photos, fans assumed they were puzzle pieces that would match up into one giant Christmas card. Now, with all the different photos we've seen (and considering some members of the family show up twice, three times, or even four times in the pictures), it's possible that these are all outtakes from a photo shoot the family did to take the Christmas card picture. On Day 25, we could just see all members of the family together in one giant photo, sans Kylie Jenner or Rob Kardashian, who haven't been featured at all.
Whatever happens on Day 25, all I know is I'll be refreshing social media to find out. Merry Kristmas!