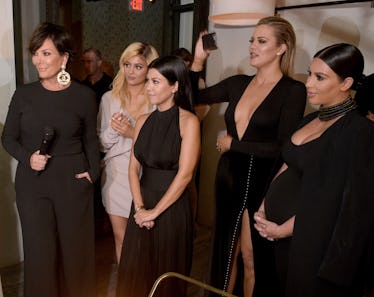 There's A Reason Why The Kardashian Christmas Card Looks So Familiar
Jason Kempin/Getty Images Entertainment/Getty Images
If there's one gift I look forward to every holiday season, it's the release of the annual Kardashian Christmas Card. It's always fun to see how the family vibe changes from year to year as the crew gains (and loses) members. And this time around, the build up is major since the family has been teasing us on social nonstop with their "25 Days of Christmas" posts.
You've seem them, right? The posts are basically an advent calander of sorts, and what happens is this: Each day, Kim and Kourtney share one outtake on their respective Instagram feeds, offering up a tiny glimpse of what's to come when the family finally decides to drop their latest installment in its entirety — which we're guessing will happen right on Christmas Day.
The whole thing is brilliant and in true Kardashian fashion, the entire internet is buzzing about it. But something about these images feels kind of familiar, so let's take a look back at some of them.
We're up to day 15 now, and so far we've seen Kim and Kanye from the neck down, Saint in a pile of presents, North rocking a gorgeous head of dark curls while looking up at her mama, Kendall doing stunning Kendall things, Penelope sprawled on her belly while rocking a white tank and Levis, a platinum-haired Kim holding North while lying on the ground and pointing up at the sky, and Kourtney holding Reign upside down while his older bro Mason plays with a big piece of fake candy.
So sweet, right? We are seriously loving the clean and dreamy images filled with all the laughter and love. But notice anything? So far, everyone who's been featured has been decked out in denim-and-white. And while it's super-cool to see the Kardashian-Jenners go all Casual Friday, the low-key style seems to be a complete departure from the glammed up, formal vibe the fam has favored in recent years past.
Who can forget the neon carnival extravaganza from 2013, the high-style all-red va-va-voom version that was 2015, and the Mac Daddy of all Christmas cards — the 3-D spectacle they gifted us with back in 2011?
So extra.
We love that these guys decided to dial it down this year. But if the laid-back shots look sort of familiar, it's because the are.
Check out this Kardashian holiday card throwback that a Kylie fan account recently shared from waaaaay back in 2006:
Same authentic smiles, same denim-and-white outfits. Could this be a clue that with all the drama surrounding their family lately, the Kar-Jenners are longing for the kinder, simpler times of years' past? Will this be the pose the posse will emulate in their full-family shot? And more importantly — will Caitlyn actually be in it?
I'm gonna go ahead and say no to the latter. But perhaps we'll finally get to see Kylie and Khloé's reported baby bumps. After all, we've yet to see Kylie show up in one of the many outtakes her sisters have shared, so where the hell is she?
I mean, even Dream got her big debut on Day 9.
And while Kim and Kourt have both been showcased multiple times, poor Khloé has only appeared once, for a hot second, on Day 13 when we were treated to a close-up shot of Penelope that offerend a peek at a whole bunch of family members hanging out in the background.
Our girl Klo-Money may look fierce in that cropped white top with a hint of flat midriff peeking out. But fans definitely don't think she look preggers. Then again, who knows how long ago these shot were taken?
Sigh. We're 15 days in, and we still know nothing. Guess we'll just have to wait until Christmas day for the big reveal.
Only 10 more days and counting.
Tick-tock, tick-tock, tick-tock...